Cherished Urns

free presentation box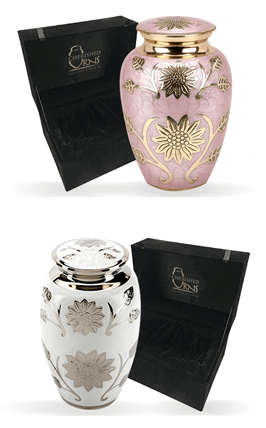 We believe, that the vessel in which you have chosen to entrust the remains of a departed loved one, is a very important purchase. That is why we revise each urn before we ship it to make sure that it is absolutely perfect, so that you will be pleased with your choice. To ensure that it arrives in pristine condition, every urn is carefully hand packed in a beautiful presentation box which makes the opening and observing of the urn a moment of elegance, calm and pleasure, at this difficult time. Some suppliers do offer presentation boxes, but they often make an additional charge for them. Our prices, however, include the elegant black presentation box which protects your urn, not only for shipping, but also for safekeeping at other times.
Not only do all of our urns have a presentation box included in the price, they also come with a soft bag which offers added protection and enhanced elegance and class. This bag protects the urn if you wish to carry it with you, and allows easy access so that you can take it in your hands and be comforted by it at any moment when you feel the need. It also provides extra protection for the urn when it is in the presentation box, adding a dignified and discreet aspect. All of our urns come with both the lovely, soft and comforting bag, and the elegant black presentation box at no extra cost. At this sad time, we want to make things better for you.
Every piece of our extensive cremation jewellery collection also comes with a small presentation box included in the price. You can guard your pendant, with its precious contents, in the tiny box when you are not actually wearing it, so that you can be sure that it is safe, and out of harm's way. The elegant little presentation box is also ideal for gifting a necklace to someone very special to the departed person. Sharing a small amount of their cremation ashes with another person can bring them immense comfort and can allow them to feel the special eternal bond with the departed that wearing one of our pieces of cremation jewellery can give. The presentation box is a lovely, discreet way in which to give such a special gift.