Loss of a beloved pet, things that can help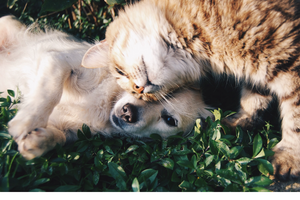 The loss of a beloved pet can be every bit as devastating as losing a human friend. Here are some ways that may help you to cope with your sadness.
Pet cremation
Many people choose to cremate their special pet. Find out all you need to know about cremating an animal in last weeks blog post.
Having the ashes of their faithful furry or feathered friend close by can bring comfort. Additionally, there are many different things you can do with the ashes that can help you to cope with the loss of a beloved pet.
Cremation urns for pet ashes
We offer classic urns for pets in wood and brass. They come in different sizes, with capacities from 25 to 140-cubic inches. They are beautifully finished and look lovely on display in your home. Many of our pet urns are adorned with touching paw prints.
We also have keepsake urns which are small and you can carry with you. Some are in the shape of a heart. These miniature urns can bring comfort after the loss of a beloved pet.
Additionally, we have brass tea lights where you can light a tiny candle in memory of your special pet.
If you wish to give your pet a water burial, we also have water-soluble pet urns.
For scattering the ashes we have several scattering tubes with designs featuring animals. These tubes have an easy-open lid to make the scattering a calm and moving moment.
Cremation pendants
A self-fill ash keepsake memorial pendant lets you carry a tiny amount of the ashes of your pet with you always. The pendant comes with a tiny funnel that makes inserting the ashes easy.
Custom cremation jewellery to cope with the loss of a beloved pet
We offer a wide selection of different pieces of bespoke memorial jewellery. These include rings, necklaces, lockets, bracelets, earrings and cufflinks. Each one has a mount where the special coloured resin containing the ashes is entered. Alternatively, you can choose to add a small amount of fur or tiny bits of feathers. Some items have multiple mounts so you can include various pets. The resin is UV-resistant so it will not fade and it sets to a very hard finish. There are twelve colours to choose from, and if you wish, you can include a pinch of real diamond dust to give an extra magical sparkle.

You can create a unique piece of jewellery to have your special pet close by always. Many people find this very comforting and a good way to get over the loss of a beloved pet.