A bespoke memorial locket is a perfect tribute to a loved one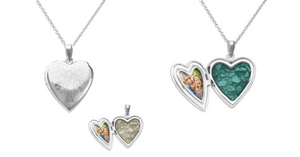 A bespoke memorial locket is a lovely discreet way to keep a departed loved one close by. From the outside, it looks like a normal finely crafted locket. Yet within it contains a wonderful secret that you can keep to yourself. Or, of course, you can choose to share it.
What is a bespoke memorial locket?
Our cremation ashes lockets are finely crafted in .925 Sterling Silver. This has a special Rhodium plating to prevent tarnishing and scratching so your locket will always look bright and shiny. We offer twelve different locket designs to choose from, including nine different hearts. Some of the lockets are simply highly polished. Others have touching words inscribed and dainty designs engraved on them. Each one has a sterling silver chain and comes in a small presentation box.
A tiny hinge allows you to open the locket. In one side you can enter a small photo of your departed loved one. In the other side, we will carefully insert the coloured resin containing the cremation ashes.
Do you use a special resin?
Yes, the resin we use sets to a very hard finish and will not change colour over time. When set, it has the appearance of a highly-polished stone. It comes in a choice of twelve different colours. If you wish, you can also add a pinch of real diamond dust which will produces a magical sparkle when the light catches on it.
Our experienced jewellers select the ashes that will look best in the coloured resin you choose. They enter the resin into the locket slowly, layer upon layer, to create a profound and beautiful effect.
Can I only add ashes?
No, if you prefer you can include a lock of hair. Alternatively, you could include tiny flower petals from a special place or maybe sand from a favourite beach. Some people choose to include tiny pieces of paper from a special letter. You can include any dry substance that is tiny enough to be mixed with the resin and entered into the mount. However, ashes are the most usual choice.
How long will my bespoke memorial locket take to come?
As soon as we receive your online order we will mail you a small bag for you to send us a small amount of ashes. When we receive them we send you an e-mail to let you know that they have arrived safely. Your locket is normally finished and shipped to you within seven working days after we receive the ashes.