Brass keepsake urns make perfect Christmas gifts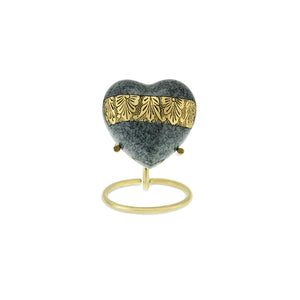 Brass keepsake urns make perfect Christmas gifts by Kristina Kennedy-Aguero
Brass keepsake urns are a lovely way to have a small part of a departed loved one forever close. They make a touching Christmas gift for someone who has recently lost a special person.
What types of brass keepsake urns are there?
We offer four distinct types of miniature brass urns. Classically styled keepsake urns, tiny teardrop urns, cylindrical brass urns with tealights, and small heart-shaped brass urns.
1. Small classically styled urns
These small urns come in a variety of classic shapes, many of which match a larger urn option, a tealight urn, and photo frames. We offer a large choice of decorations and colours to suit all tastes. Choose from butterflies, flying birds, sunflowers, roses, footprints, teddy bears and many more. Some have intricate decorations while others are simpler. Most of our classically styled miniature brass urns can hold three cubic inches of cremation ashes.
2. Teardrop miniature urns
Our selection of teardrop miniature urns includes some which are polished finely to a smooth, shiny surface. Others have intricately detailed engravings and embellishments. For many, this non-traditional shape of keepsake urn expresses perfectly their sentiments at this sad time. Teardrop urns can also hold three cubic inches of ashes.
3. Tealight urns
These cylindrical brass keepsake urns have a small glass candle holder set into the top. Here you can light a small votive candle or use an electric one. Many people find the flickering light of a candle calming and centring. They find comfort in contemplating the flame a letting their mind recall happy memories. Tealight urns can hold a larger amount of
ashes approximately 25 cubic inches.
4. Heart-shaped keepsakes
Our heart-shaped miniature urns come in a wide selection of colours, designs and finishes and we offer a special stand on which to display them. Many people chose this shape of keepsake urn to express their eternal love for their departed loved one. Heart-shaped miniature urns can hold up to five cubic inches of cremains.
Why choose a brass keepsake urn?
A keepsake urn is a perfect size to hold in your hands. This lets many people feel closer to the departed loved one. Additionally, the cool solid feel of the brass can help you to feel calmer and more grounded. These things can bring comfort to someone who is dealing with the grief of losing someone special.
A miniature urn makes a lovely Christmas gift to reunite someone with a loved one.