A Gift Card from Cherished Urns shows You Care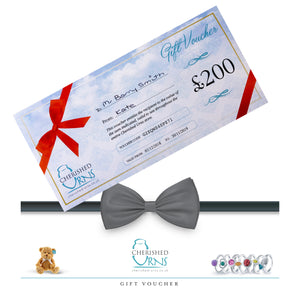 A gift card from Cherished Urns is the perfect present for someone who has recently lost a loved one. At this sad time, it can be hard to show how much you care. A gift card expresses your sympathy and allows the recipient to choose what they want to spend it on.
What can you purchase with a Cherished Urns gift card?
The recipient can use the card to purchase anything on the Cherished Urns website. That includes a wide variety of urns made from many different materials. Also, scattering tubes and biodegradable urns. They may choose a tealight or a keepsake urn. Additionally, we offer a fantastic selection of memorial jewellery to choose from. Many pieces incorporate a small amount of cremation ashes in them to create a very special personalised reminder of a departed loved one.
Why choose a Cherished Urns gift card?
Giving a grieving person a present is a lovely way to show you care. However, it is extremely hard to find an appropriate gift. With a gift certificate, the person can choose what they want to purchase from our extensive range of urns and cremation jewellery. This way you can be sure they will get something that they will really love and appreciate.
How do I buy one?
Simply click here. The card comes in different denominations. Choose which one you wish to send. There are cards for £10, £25, £50, £100 and £200 and each one comes in a beautifully decorated envelope.  Then, select how many cards you want to buy.
We will send you the card via first class mail so that you can fill in by hand the "To" and "From" sections on the voucher. Alternatively, if you drop us an email to hello@cherished-urns.co.uk or call us on 01872 487101 with the indications, we can fill them in for you and send the gift card directly to the recipient. If you prefer, we can send the gift certificate as an email so that the recipient can redeem it immediately.
How does the recipient use it?
They should enter the Cherished Urns website. Here, they can browse through everything until they find what they would like to purchase. As the gift card is valid for a year they can do this at any time when they feel like it. When they make their decision, they simply fill in the voucher code number on the payment confirmation page. They can use more than one gift certificate on their purchase.