A Memory Garden is a Space to Heal and Remember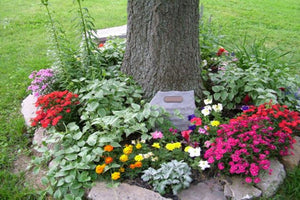 Many people find that creating a special space where a departed person can be remembered can help in the grieving process. Some people choose to make a place in their home where they display photos, mementoes and sometimes the cremation urn. Creating a Memory Garden is another popular healing alternative.
Why create a Memory Garden?
The actual process of creating the garden can be very therapeutic, and just as important as the finished space. Being outside in the fresh air and connected to nature is one of the best ways to heal. You don't need a huge garden to create a special place to remember a departed loved one. You can even do it in a window box. The process of planting, caring for and watching a plant grow and bloom is a marvellous process on any scale.
Planting your garden
If your departed loved one had any special favourite plants you will, of course, wish to include these in your memorial garden. Forget-me-nots and Rosemary, the traditional herb of remembrance, are popular choices. Roses with names such as At Peace, Never Forgotten and Loving Memory will produce beautiful blooms to inspire you. Also include plants which attract butterflies and birds into your garden. Sharing the space with other living creatures will always bring you joy. Some people like to place the cremation ashes in a biodegradable urn and plant a special tree or shrub on top. Others may choose to scatter the ashes in the garden
Personal Items
Some people like to use items that had belonged to the departed as special planters. A teapot, a shopping basket or an old boot can all make personalised planters that will remind you of the deceased.
Light, sound and water
Hang windchimes which make a gentle soothing sound in the breeze. Instal solar lights or create special places for candles so you can enjoy your memorial garden in the evening as well. The sound of running water is very calming and centring. Why not include a small fountain in a basin of pebbles? There are many small solar powered fountains available or create your own using a small pump.
A Central Feature
Many people like to include a central feature such as a birdbath, a sundial, a statue, or a sculpture. These can include a plaque or a space in which to place the memorial urn. Some even incorporate the ashes in the creation.
However you decide to form your memorial garden, the process of creating it will bring you peace and joy. You will always have a special place where you can sit and contemplate, and remember, and find peace.