A very special Valentine's day gift - memorial jewellery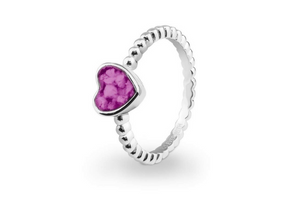 Valentine's day is when we remember our loved ones. This time can be hard for someone who has recently lost a special person from their life. So what better gift on Valentine's day than a piece of memorial jewellery, to keep a departed loved one forever near?
What is memorial jewellery?
There are different kinds of memorial jewellery. Some, contain a concealed compartment where a small amount of the cremation ashes can be safely stored. Others, incorporate a special resin into which a tiny amount of the cremated remains are mixed. This is then carefully layered into the mount to create a uniquely lovely ethereal effect.
What types of memorial jewellery from ashes are there?
Choose from our large selection of memorial jewellery made from ashes which includes rings, pendants, bracelets, earrings, and cufflinks. There are styles for men, women, and those that suit both. Each piece is lovingly hand-crafted and finished to a high standard.
The special UV-resistant resin comes in twelve different colours so you can create a unique piece of jewellery which is ideal for a Valentine's day gift. Some designs are modern while others are more traditional. Some include sparkling Swarovski crystals.
How long does the process take?
We are able to offer a faster processing time because we have our own team of expert craftspeople. As soon as we receive your order, we immediately dispatch a Freepost envelope in which to return some of the cremation ashes and to confirm the size and colour of your order.
Once we receive your envelope back we expect to ship your finished product within five working days. However, as these are very popular for Valentine's gifts, better to place your order soon.
We blend the selected fragments with great care into the resin. This is then entered gradually layer upon layer to create the beautiful effect. We keep you informed by email as to the progress of your product, and when finished, we return any unused ashes to you. We treat the ashes with great respect and dignity and each order is carefully labelled and safeguarded.
Add extra sparkle for a really special Valentine's gift
You can choose to add a sprinkle of real diamond dust into the resin mixture to create a really unique and incredibly beautiful sparkly effect.
Once set, the ashes remain permanently sealed, safe and permanently visible to bring the wearer comfort and peace. What better Valentine's gift than that of being able to have a departed loved one forever close by?