Alternatives to the traditional funeral hearse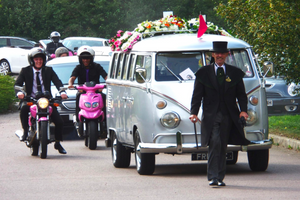 If the traditional solemn black hearse does not fit in with the funeral plans, check out these unusual options.
Volkswagen Camper Van Hearse
This is a favourite option for celebration of life ceremonies, natural burials and green funerals. Many ex-campers or festival goers have very fond memories of these classic vehicles. Saying the last goodbye to a valued friend in a VW hearse can bring back lots of happy memories to comfort those left behind.  Volkswagen Funerals offers a fleet of different models as well as a Victorian Coffin Bier.
Motorcycle funerals
As Motorcycle Funerals founder the Rev. Paul Sinclair says "No one places an Everton fan in a Liverpool strip when they die so why should a motorcycle enthusiast be last seen in an automobile?" However, not all of Pauls clients are bikers. One lady who passed away at 102 made her last journey in one of his specially adapted covered sidecars. Choose from Triumphs, a Harley or a Suzuki. Or, If you don't mind which one, choose the economy option. Paul also offers a charming tandem bicycle option.
Another option for motorbike enthusiasts is a Trike Hearse.  An impressive trike pulls the coffin behind it in a small covered trailer.
Vintage Lorry
If a ride on the bed of a 1950 Leyland Bever lorry would have appealed to the deceased, contact Vintage Lorry Funerals. The vehicle has been beautifully restored and meticulously painted in navy blue and red.  There is plenty of room on the 21-foot deck to accompany the coffin with a themed tribute or an impressive floral display. There is even room to transport two coffins together to their final resting place.
Citroen Van
This classic French Type-H Citroen Van offers a novel way to bid a friend or relative the last "au revoir".  It offers a unique and distinctive funeral vehicle. Find out more from Bon Voyage Hearse Hire.
Hotrod hearse
The Final Cruise offers a deceased car lover the chance to ride on the back of a decked out hotrod pick-up truck.
Cadillac Deville
A true gothic limousine, this 1972 Cadillac Deville has a monster 7.7-litre V8 engine, and is right out of the Adams Family. This impressive vehicle is certainly a way to go out in gothic style.
Horse-drawn Hearse
While this used to be the standard option, it is now a really impressive choice for that final journey. Choose from black, white or silver hearses, pulled by matching, or contrasting horses. Find out more here.
All of the above options are available countrywide. Furthermore, each one comes with its own professional driver.