Biodegradable urns made from cornstarch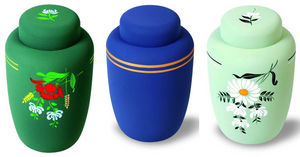 A biodegradable urn can be made from many different materials. These can include handcrafted paper or beautiful natural gourds. Cornstarch urns are also biodegradable and are also very unique.
Why choose a biodegradable urn?
Most people decide on a biodegradable urn for environmental reasons. The use of responsibly resourced materials in the making of these urns means that their production has a low environmental impact.
For a water burial, a biodegradable urn that completely dissolves in the water and contains no toxic materials is necessary. An urn made of handcrafted paper is ideal for this and there are many styles to choose from.
Some people who choose a burial in the ground also wish for the urn to naturally disintegrate over time leaving no harmful residues. Cornstarch urns are ideal for this.
Why choose a cornstarch urn?
Cornstarch is a natural carbohydrate which is in the endosperm of the corn. Mixing the white powder with water and recycled paper makes a strong and durable substance.
Cornstarch urns look much like a traditional metal urn. They have classically rounded forms and are painted in soft colours with non-toxic paints, and a delicately hand-painted bloom adorns each one.
While a cornstarch urn is totally biodegradable, the deterioration process does not commence until you bury it in the ground. If you wish, you can keep a cornstarch urn in a columbarium, a niche, or in your home for as long as you wish.
Each cornstarch urn has a snap close lid which seals it permanently to keep the ashes safe. Additionally, you can carry this biodegradable urn onto an aeroplane as hand luggage if you need to travel with the ashes.