Chains for memorial pendants in gold and silver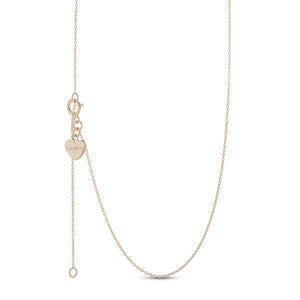 08 March 2021, by Kristina Kennedy-Aguero
Chains for memorial pendants come in different lengths, styles, and materials. Choosing the right one will allow you to wear your pendant with comfort, confidence, and style.
All of our memorial pendants and lockets come with a chin included. However, many people choose to purchase one of the many different chains we offer to hold their special pedant exactly where and how they want it.
What lengths chains for memorial pendants are there?
Each style of chain comes in three different lengths.
An eighteen-inch chain holds your pendant close to your neck. Most people prefer a short chain with a small, delicate pendant.
A twenty-inch chain locates the pendant mid-chest and allows others to better appreciate its beauty.
For larger, heavier pendant a twenty-two-inch chain is often a better choice. Additionally, this long chain holds the precious ashes of your departed loved one closer to your heart.
What materials are the chains made of?
All of our chains are available in either .925 Sterling Silver or in 9k gold.
The silver chains have a Rhodium plating that gives them a bright shiny finish and prevents tarnishing and discolouration. While the gold chains come in either rose, white, or yellow gold.
They will perfectly match your bespoke memorial pendant or locket, or one of the self-fill pendants in our precious metal range.
What different styles of chains are there?
Curb chains- are strong and very comfortable as the flattened links nestle closely together to feel smooth against the skin. They will not break even if twisted or bent. We also offer diamond cut curb chains which have a special reflective cut made in each link to produce an extra sparkly look.
Rope chains- Each link is made up of several thin strands that make this chain strong and also lustrous. The links are then twisted to create the traditional rope form. As well as 18, 20 and 22-inch rope chains we also offer an adjustable chain.
Cable chains- are one of the oldest styles of chain, and their oval links interlock with the line on either side. These chains are strong and have a simple timeless charm.
What type of clasp do these chains for memorial pendants have?
All of our chains have spring ring clasps. This is a very secure clasp that will not open unexpectedly. It is easy to fasten as the last link of the chain is larger to make insertion into the clasp easier.
Choosing the right chain for your memorial pendant is a question of personal taste. Whichever of our chains you choose you can be sure that it is expertly crafted from quality materials. Additionally these styles are all strong and do not break easily and the clasp is extremely secure and reliable. With a pendant containing something as important as the cremation ashes of a departed loved one you want to be sure that they are secure. Your special pendant will be held safely and beautifully presented with anyone of our range of 9k gold and .925 Sterling Silver chains.