Charm beads made with a loved one's ashes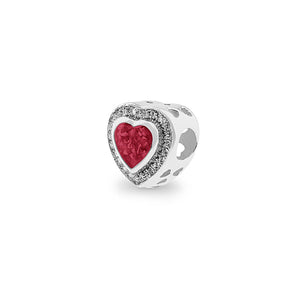 Charm beads made with a loved one's ashes by Kristina Kennedy-Aguero
Charm beads made with ashes are a unique way to keep a loved one close. They make an ideal gift for a person who has lost someone dear, as they fit onto any Pandora-style bracelet.
What are the charm beads made from?
Our charm beads are finely crafted in .925 Sterling Silver and we will complete your piece of silver jewellery within seven days of receiving the ashes. However, if you would prefer your bead in gold, you can select from rose, white, or yellow 9k gold. As these items are individually handcrafted to order they do take longer and you can expect to wait from four to six weeks for a gold item.
The Sterling Silver and the white gold charm beads have a delicate Rhodium plating. This gives them added protection against scratching and tarnishing.
Are there different styles?
Yes, we offer a choice of six unique styles of charm beads created with ashes. Each one is beautifully crafted and the fine details are incredible. Some feature tiny sparkling crystals, others engravings, while others have cut-out shapes. Take your time to carefully examine each one as they are all unique and extraordinarily lovely.
All of our charm beads have a mount where we will carefully insert the resin containing the ashes. Our special resin comes in a choice of twelve distinct colours so you can create a truly unique piece of jewellery. Our special resin is UV resistant, so the colour will never change or fade. Additionally, the resin is extremely hard when set and will not chip, scratch or break.
How many ashes do I need to send?
We ask you to send a generous pinch of ashes. This allows our jewellers to select the most expressive pieces and to create the most impressive piece of jewellery. As we build the resin up layer upon layer they can position the ashes to give the best effect. We will safely return any left over ashes to you along with your finished item.
Can I add diamond dust?
Yes, the is the option to include a tiny pinch of real diamond dust into the resin mix. This creates a subtle sparkle that you will appreciate best in bright sunlight.
Self-fill charm beads
If you prefer, we also offer twelve different self-fill charm beads that you can place the ashes into yourself. They have a hidden inner chamber sealed by a tiny screw. We will send you a tiny funnel and a small screwdriver to make the insertion of the ashes simple.
Charm bead bracelet.
We also offer a 7.5" charm bead bracelet to hold the charm beads. This is only available in .925 Sterling Silver with a Rhodium plating.