Cherished Urns earns top customer satisfaction score on NPS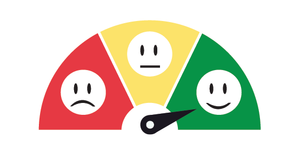 At Cherished Urns, we pride ourselves on our outstanding customer service. Now, we are delighted that this has been verified by our outstanding result of 92 on the Net Promoter Score (NPS).
What is NPS?
The Net Promoter Score is a scale which measures the level of customer satisfaction and loyalty towards different companies. The scale runs from minus 100 to plus 100. A positive score indicates that a business has more satisfied than dissatisfied customers.
How is NPS calculated?
The response of customers to the service they have received from a company determines the NPS. At Cherished Urns, we invite all of our clients to leave a review of our service after their purchase from us.
So far, we have received 323 reviews, giving us a rating of 4.9-stars out of a possible 5. We have achieved a 98-percent on-time delivery rate using courier and postal services, and our average delivery time is within five days. Also, we normally respond to queries, or solve problems within an hour, by telephone or via Email. Additionally, 99-percent of reviewers would recommend us.
The NPS Scale
A score of 0 to +50 is a "good" score. Above +50 is an "Excellent", score, while above +70 rates as "world class". An NPS of more than 70 indicates that a company is very customer-centric.
Cherished Urns scores 92
We are delighted to report, that we scored a whopping 92 on the NPS scale. That means that firstly, we have way, way more satisfied customers than dissatisfied ones. Secondly that almost all of our customers would purchase one of our products again. Thirdly, that they would recommend us to other people.
How did we do it?
We achieved this fantastic score by really caring.
Caring about the price and quality of our products, and, most importantly, caring about our customers.
At Cherished Urns, we understand that many of our customers are going through a difficult time. So, we make our ordering process simple, and we ensure that all of our products leave us in perfect condition. We make sure that they are adequately packed, and that they arrive on time. In the event of a query or a problem, we always attend it quickly and solve it. We even have time just to listen.
We would like to thank all of our loyal customers for helping us to achieve this score, and we look forward to continuing to help you to choose the perfect urn or piece of memorial jewellery to honour your departed loved one.