Child keepsake urns, to keep an infant close by always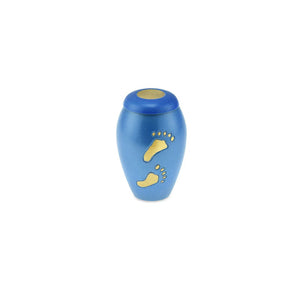 Child keepsake urns, to keep an infant close by always by Kristina Kennedy-Aguero
Child keepsake urns let you keep a small amount of ashes forever close. Losing a child is incredibly hard, and many people find comfort in holding one of these tiny urns in their hands. The cool solidness of the solid brass can help to centre and calm you. While the beautiful designs can bring peace into your heart with their loveliness.
Teddy Bear child keepsake urns
We offer three miniature urns with adorable Teddy Bear adornments. Each one is meticulously crafted and finely finished. The Porth urn is purple and measures 2.5-inches high and 1.5-inches in diameter. Its softly rounded form makes it perfect to hold in your hands. The Marazion child keepsake urn is a little larger at 3.5-inch high and 2-inches in diameter. This little urn comes in a cheerful shade of pink that will lighten your heart. Finally, there is the Talland miniature urn in blue, which is three inches high and has a diameter of two inches. Each of these tiny urns has a capacity of three-cubic inches.
Another unique keepsake urn appears to be a real teddy bear with soft curly fur and a gentle smiling face. However, The Memorial Bear has a small opening in the back which gives access to a little pouch that can hold a small amount of ashes. Cuddling this adorable bear is sure to bring comfort to someone who has lost a child. Alternatively, it is a lovely way for a child to hold a lost loved one close.
Footsteps brass miniature urns
These tiny Footsteps urns have two little footprints in brass and come in a choice of five colours, blue, white, garnet, pink, and pewter. Each one is three inches high and has a diameter of two inches with a capacity of three cubic inches. This is one of our most popular designs in child keepsake urns.
Tear Drop child keesake urns
This touching Tear Drop urn with its modern style and fluid form is sure to help you through this sad time. It is a fitting tribute to all the tears that you have shed. This tiny urn is three inches high with a diameter of two inches and a capacity of three cubic inches.
Matching urns
Many of our child keepsake urns match the larger version. This allows you to store most of the precious ashes in the large urn and lets you carry a small amount with you in the matching miniature version.
All of our miniature urns come with a small black velvet pouch which is ideal for carrying your precious urn with you at all times. Additionally, it comes with a lovely presentation box which you can use for safekeeping this lovely work of art.