Child scatter tubes for the perfect farewell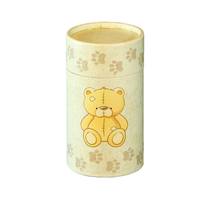 Child scatter tubes are a convenient way to transport, temporarily store, and scatter ashes.
What is a scatter tube?
A scatter tube is a cardboard cylinder that has a special easy-open lid. The easy-to-follow instructions show you how to correctly insert the ashes into the tube. The ashes will then be held safely and securely inside the tube until you open the push-in tab to scatter them in a special place.

The tube itself is made of a durable, sturdy cardboard. It fits comfortably in the hand to make the scattering a calm and controlled affair. Once you have scattered the ashes you can recycle or compost the tube as it is biodegradable. They contain no metal or plastic parts and so totally decompose naturally. Alternatively, many people choose to reuse them and turn them into pen holders, as the images on them are really lovely. 
Child scatter tubes
Our scatter tubes come in two sizes. The smaller one, for the ashes of a child, has a 20 cubic-inch capacity. Additionally, you can use these to share the ashes of an adult between several people for a special farewell ceremony.
Our most popular child scatter tube has a touching teddy bear on it, but there are many other options. Choose from rainbows, sunsets, woodland scenes, flowers, and many more. Each photograph is printed in high definition and with rich colours.  There are also several different plain colours to choose from including white, and black with a silver lining.
Why choose a child scatter tube?
You can use a child scatter tube to transport the ashes safely to the place of scattering. You can even take them on a plane as hand luggage if you need to fly to a special place. The push-in tab ensures a controlled opening that will make the moment calm and meaningful. 
Keeping some ashes
Scattering ashes is a lovely way to have a really special final farewell. However, many people choose to keep a small amount of the ashes to create a piece of memorial jewellery. This allows them to have their departed infant close by forever. We offer a wide choice of jewellery made with ashes that includes rings, bracelets, necklaces, beads and more. We carefully mix the ashes with our special coloured resin so they will be preserved, safe, and beautiful always.
Alternatively, we also offer a value range and a precious metal range of self-fill pendants.