Choosing a ring made with ashes for someone special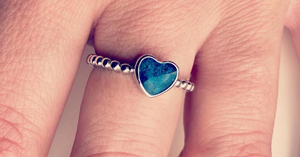 A ring made with ashes makes a perfect gift for someone special. Here are some tips to help you to choose the right ring.
Types of rings
We carry a large selection of different styles of rings made with ashes. There are gents styles, ladies styles, and unisex ones. Some rings are heavy and chunky others are delicate and dainty.  There are band styles, waves, solitaires, and more. The mounts come in many different shapes, including hearts, ellipses, ovals, circles, oblongs and more. Some rings have Swarovski crystals set in them, others have an unusual bubble band.
Most rings are made of .925 Sterling Silver with a Rhodium plating to prevent tarnishing and scratching. Some styles are available in white, rose or yellow gold.
Take your time to look through the photos on our website and imagine the ring on the hand you are buying for.
Which resin colour to choose?
Our special resin which will be entered into the mount of the ring comes in a choice of twelve different colours. Choose from white, black, transparent, aqua, blue, green, orange, pink, purple, red, violet, or yellow.
Think about what colours of clothing the recipient normally wears, or choose their favourite colour, or that of the deceased, or maybe a colour to match their eyes.
Whichever colour you choose, a tiny pinch of ashes will be mixed into the resin, and when set they remain suspended and safe within and have an ethereal beauty. The resin is extremely hardwearing and looks like a polished stone. It is UV-resistant and will not change colour.
Should I add a sprinkle of diamond dust?
If the person you are purchasing for likes glitter and sparkle, then you should definitely go for it. The diamond dust adds even more beauty to a ring made with ashes.
What size should I get?
When you place your order for your ring made with ashes we will send you a special ring sizer. If this ring is going to be a surprise, you can use the sizer to measure the size of a ring that the recipient wears. Remember that each finger is a different size so the recipient can choose to wear the ring on the finger on which it fits best. Alternatively, you can choose an adjustable ring which will fit everyone.
How long does it take to make a ring made with ashes?
Once we receive the ashes, we will normally ship your finished ring within seven days, and we update you throughout the crafting process.