Coffins - A Guide to Help You Choose the Right One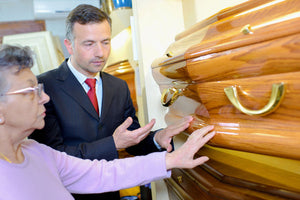 Coffins were traditionally made from exotic hardwoods. The linings were of luxurious fabrics and brass fixtures adorned them. Now, however, they come in a wide range of materials and designs. Choosing the right coffin depends on the plans you have for the remains. Also, on personal taste and your budget.
 Wicker and Willow Funerary Boxes
These eco-friendly coffins are sustainably produced and woven by hand. They come in a wide range of shapes, and in different natural colours. They are ideal for a traditional burial, a green burial and for cremation. Find information here.
Cardboard Coffins
These are becoming more popular for a number of reasons. First of all, the composition is of at least 70-percent recycled cardboard and paper which makes them eco-friendly.  Also, they decompose completely and don't contain any formaldehyde or toxic glues. There is an incredible choice of stunning pictorial designs available.  These high-resolution prints envelop the whole coffin transforming it into a beautiful  work of art. Finally, you can personalise them in just about any way you can think of. Use a personal photo or a favourite artwork to create a unique coffin. Or, let people write their own farewell messages. They are ideal for use at green and normal burials, and for cremation. Discover about cardboard coffins here.
Alternative Eco-coffins
There are new coffin materials appearing due to the increase in the number of eco-friendly burials and cremations. These include bamboo, banana leaves, cane, wool, seagrass and pandanus. Get details here.
Non-traditional forms of coffin
If you want to bury or cremate your loved one in a different style coffin, click here. From guitars, to cars, to spaceships, these people will create whatever form you choose. A custom-built pall will give your loved-one a unique personalised send-off.
American-style Caskets
A metal, usually brass forms a true American-style casket. Of course, these are only suitable for burial. They are elaborate, luxurious and ornate. The hinged lid allows viewing of the corpse. Find information here.
Wooden Coffins and Caskets
Eco-friendly. Most natural burial grounds accept environmentally friendly wooden coffins which use sustainably sourced woods. These can include wood from old, non-producing mango trees. Or, harvested crop woods from FSC-accredited companies. Choose an eco-friendly paper wrap from a great variety of picture options to personalise them. Find out more here.
Traditional.  While the eco-friendly trend increases, many people still prefer a traditional hand-crafted coffin from pine, oak and mahogany. See a selection here.
Traditional coffins use up precious resources and can take many years to decompose. As awareness grows, more people are choosing a more eco-friendly last resting place. Also, as cremation figures grow people focus more on sustainably produced caskets.