Colours of memorial jewellery-which one to choose?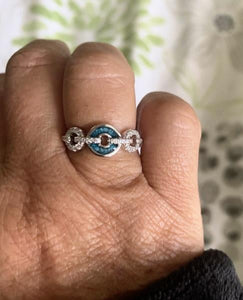 Our selection of colours of memorial jewellery is extensive, and you may have difficulty choosing. If you are having trouble making up your mind, this blog may help you to make the right decision.
What colours of memorial jewellery are there?
Our rings, pendants, bracelets, necklaces, charm beads, earrings, and cufflinks come in a choice of twelve different resin colours. Our special resin is UV resistant so whichever colour you choose you can be sure that it will not fade or change over time. Additionally, our resin has an extremely hard outer surface and will not scratch, even with daily use.
We use resin to create our unique pieces of memorial jewellery because it allows us to offer a wider choice of delicate and complex mountings. Additionally, resin allows us to create bespoke colours to meet a special request. Furthermore, resin creates a much lighter piece of jewellery than glass and so is more comfortable to wear. Finally, resin is much safer than glass as it will not shatter, chip, or break. 
Choosing the right colour
For some people, it may be easy. Perhaps the deceased had a favourite colour. Or perhaps you do. Maybe you will choose a colour to combine with a certain outfit to wear on special occasions. Perhaps, you will simply feel attracted to a particular colour. Take your time to make your mind up as this is a very special and personal item that we are sure you will cherish forever.
Green symbolizes growth, new beginnings, nature, self-acceptance, abundance, and also luck

Aqua relates to transition, self-expressiom, uplifting, creative, and refreshing

Black conveys strength, power, and elegance

Blue can evoke positive moods and emotions. It represents trust, reponsibility, calm, tranquillity, and reassurance

Orange is associated with energy, warmth, happiness, vitality, and creativiity

Pink represents kindness, love, femininity, harmony, inner peace, friendship, and affection

Purple relates to wealth, power, and luxury and is often connected to magic and creativity

Red is the colour of love and passion, and is one of the most popular colours of memorial jewellery

Violet represents enlightenment, spirituality, selfless love and is grounding 

Yellow is associated with energy, joy, hope, and happiness

White symolises purity, virtue, and goodness and is another favourite choice of colours for memorial jewllery

Transparent  resin allows you to appreciate the natural beauty of the ashes and is a versatile choice of colours of memorial hewllery
Variations in the resin colours
Although we do our best to fairly represent each resin colour, the final result may differ slightly from that in our brochure or website. This is due to the fact that ashes, perhaps surprisingly, vary in colour from dark grey to almost white. Occasionaly, our jeweller may feel that your choice of colour is not ideal to beautifully display the ashes. On these occasions they will contact the customer to see if they wish to change to another colour and can advise which might give the best effect.