Companion Urns allow two people to be together always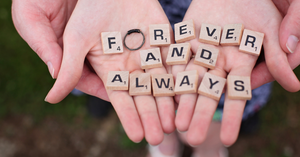 Companion urns can offer a very special resting place for the ashes of two very special people.
What is a Companion Urn?
Companion urns are also called double or extra large adult urns. A normal adult urn has a capacity of 200-cubic inches and can hold the cremation ashes of a person weighing up to 14-stone (that's 90-kg). A companion urn, however has a much larger capacity. It can hold up to 365-cubic inches of ashes.
Why choose an extra large urn?
An extra large urn is a good choice if the deceased person weighed more than 12 stone. A standard size urn should be able to hold the cremated remains of a person weighing up to 14-stone. However, the amount of ashes produced does vary, so, if you are purchasing for the remains of a larger person perhaps an extra large urn would be a good choice. An extra large urn can hold the remains of a person weighing up to 25-stone or 165-kg.
Companion Urns to reunite a couple
Companion urns are also the ideal way to keep united the ashes of two people. Many couples who have spent their lives together wish for their ashes to rest together also.
Frequently, the ashes of the first one to pass on are kept in the urn. Then, when the other person joins them their ashes are inserted with them. What could be more romantic than sharing the same eternal resting place?
What styles of Double urns are there?
We carry five different double urns. They are all beautifully crafted from solid brass. They come in rich colours like ruby red, black, and white, and have exquisite finely detailed engravings in nickel silver and bronze. Choose from roses, the symbol of unending love, birds peacefully flying home to rest, or cheerful sunflowers.
All of our companion urns have matching miniature keepsake urns, tealights, and photo frames, so you can create a very special memorial to celebrate the life or lives of the departed.
Many people find great comfort knowing that their mum and dad, or grandma and grandad, or two siblings will be together forever safely held within these beautiful urns. Many people choose to keep them on display in their homes where they can find comfort in their beauty and the happy memories that they can help bring back.
All of our urns come in a carrying bag and are delivered in a tasteful black velvet presentation case.