Cremation ash jewellery- what makes ours so special?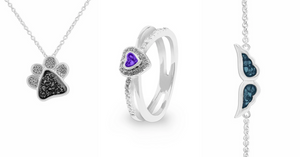 Cremation ash jewellery has been popular since Victorian times. However, with the advances in techniques and materials, we can now produce bespoke pieces of jewellery which have cremation ashes incorporated into them. There are quite a few companies who now offer this option, and it can be hard to choose. So, keep reading to discover why we at Cherished Urns are your best option for cremation ash jewellery.
Outstanding customer service
Providing an efficient, compassionate, and respectful level of customer service is of great importance to us. Just check out our customer reviews to see that this is more than just a business, we really do care.
First, we try to make our website easy to find what you are looking for, accurate, and simple to order from.
Then, if you have any questions or doubts, we provide various ways to contact us and we normally respond to all queries within an hour. Even if you just want to have a reassuring chat, that is fine. We know that this is a difficult time and are happy to do anything we can to help.
Simple ordering process
Once you have placed your initial order, we will send you a prepaid envelope and a special bag to return a small amount of ashes to us so that we can include them in your chosen piece of jewellery. We understand that it can be stressful to send precious ashes through the post. That's why send you a confirmation email as soon as we receive them back.
Then, throughout the crafting process, we will keep you informed of the progress of your piece of jewellery, and finally co-ordinate the date and time of delivery.
An unrivalled choice of cremation ash jewellery
We offer an extensive choice of designs of rings, lockets, pendants, earrings, bracelets, and cufflinks cremation ash jewellery, for men and women.
Each piece comes either in .925 Sterling Silver or in 9k white, rose, or yellow gold, and some have real Swarovski crystals. You can choose from twelve different resin colours to set the ashes into. Also, you can add a pinch of real diamond dust for an extra-magical sparkle, if you desire.
Quality
We handcraft each piece of jewellery to create a unique, personalised,  and very special tribute to a departed loved one. We treat the ashes with the greatest respect and care and will return to you any that are not used in the process.