Cross cremation pendants to commemorate a loved one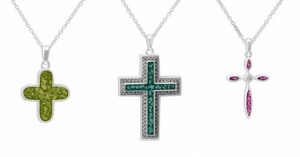 Cross cremation pendants offer a special way to pay tribute to a departed loved one.
For many, the symbol of the cross offers hope of reuniting with their loved ones in the next life. For this reason, our cross memorial pendants are very popular and many people find comfort in them.
Self-fill cross cremation pendants
We offer a selection of different cross memorial pendants for ladies, gentlemen, and unisex. With our self-fill pendants, you insert the ashes through a small hole into a sealed inner chamber. We send you a tiny funnel to make this easier. We also include a small screwdriver to insert the little screw. A gasket makes the compartment air and watertight to keep the precious ashes safe. However, we do not recommend swimming or bathing wearing your cross cremation pendant. Some people choose to permanently seal the chamber by putting a drop of superglue on the threads.
Some of our self-fill pendants are in polished stainless steel. These are of high-quality yet at a very accessible price. Others come in a choice of Sterling Silver, white, rose, or yellow gold.
Custom-made cross cremation pendants
These cross memorial pendants include a tiny amount of cremation ashes mixed into a special resin. We carefully enter the resin into the mount of the pendant. When set, the resin looks like a polished stone and the ashes are clearly visible and held safely within. With twelve different resin colours to choose from you can create a personalised cross cremation pendant.
Additionally, if you wish, you can include a pinch of real diamond dust to give an extra sparkle. When the sun shines on the diamond dust the effect is really magical. Contemplating a personalised cremation pendant with diamond dust can fill your heart with happy memories. These can help you to pass the years before being reunited knowing that your loved one is still accompanying you.
Pendants in Sterling Silver normally take seven working days to create. If you choose one of the three gold options these will take a little longer. We individually make each pendant by hand and our craftspeople treat the ashes with great care and respect. We inform you via email when we receive the ashes from you, and at each step of the process. Sending ashes through the post can be stressful so we do this to alleviate any anxieties.
Each pendant comes with a chain and is beautifully presented in a lovely box ideal for gifting or safekeeping.