Cross-shaped pendants to contain the ashes of a loved one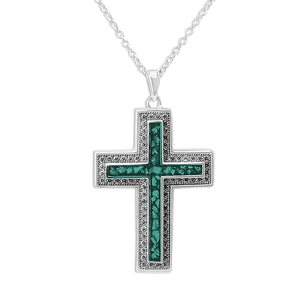 Cross-shaped pendants to contain the ashes of a loved one by Kristina Kennedy-Aguero
Cross-shaped pendants are a popular way to have a loved one forever close. For many people, the cross is the symbol of eternal life. The belief in life after death and the resurrection of Jesus helps many people to cope with the loss of a loved one. Religious symbols and beliefs are very important to a lot of people and these cross-shaped pendants can bring much comfort to believers.
What types of Cross-shaped pendants are there?
We offer cross-shaped pendants that have a mount where a coloured resin containing the ashes is mounted. Additionally, we have self-fill pendants in Stainless Steel or in precious metals.
Cross-shaped pendants containing ashes set in resin
We have three styles of unisex crosses to choose from, the Rounded Cross Memorial Ashes Pendant, the Cross Memorial Ashes Pendant with Fine Crystals, or the Oversized Cross Memorial Ashes Pendant with Fine Crystals.
Each style is meticulously crafted in either .925 Sterling Silver, or in Yellow, White, or Rose 9k Gold. Each one comes with a matching 40cm chain with a secure 5cm lobster clasp.
You can choose from twelve different resin colours or even request a specially mixed shade by sending us a colour swab. The resin sets to a very hard glossy finish that looks like a polished stone. It is UV resistant, so it will not change colour or fade. Also, it will not chip, crack, scratch, or shatter.
Additionally, there is the option to include a pinch of real diamond dust in the mix. This gives a subtle, magical sparkle.
Most people have ashes incorporated in their cross-shaped pendants, but you could include hair if you prefer.
Self-fill cross pendants in silver and gold
From our precious metal range, we offer the Self-fill Infinite Cross Cremation Ashes Pendant. There is also the Self-fill Clover Cremation Ashes Pendant with Crystals that also has a cross-like form.
These pendants come in .925 Sterling Silver, or in your choice of Yellow, White, or Rose 9k Gold.
If you choose to insert the ashes yourself we will include a tiny funnel to make this easier. However if you would prefer us to insert the ashes for you, please select the "Fill" option.
Additionally, we can laser engrave a few chosen words in a choice of scripts on the rear of these pendants for you.
Stainless steel pendants with crosses
In our economy range of self-fill pendants, you can choose from the Black Cylinder with Cross Memorial Ash Keepsake Cremation Pendant or the Silver Engraved Cross Memorial Ash Keepsake Cremation Pendant.
These pendants are made from high-quality stainless steel and come with 56cm chains. Also, they include a presentation box.
All of our self-fill pendants contain a hidden inner chamber. This is accessed by removing a discreet screw. This screw has a rubber gasket to keep the ashes safe within the air and water-tight compartment. Some people chose to add a drop of superglue onto the threads of the screw. This will permanently seal the compartment,