Custom colours for your bespoke memorial jewellery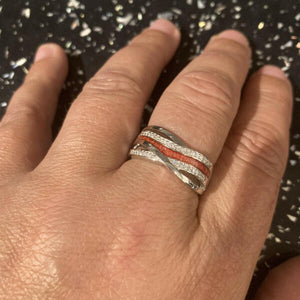 Custom colours for your bespoke memorial jewellery by Kristina Kennedy-Aguero
Custom colours can make your bespoke memorial jewellery even more special and personalised. Find out more about how to make a unique piece of jewellery extra-special.
Our special resin
We use a special resin to create our unique pieces of memorial jewellery.
This resin sets to a very hard finish and the surface will not scratch or chip. The end result looks like a polished stone and many people select the colour of the birthstone of the departed. Additionally, our resin is UV resistant so your chosen colour will not change or fade.
Using resin allows us to fill delicate and complex settings to create amazing pieces of jewellery. Additionally, some of our items have multiple settings. This lets you choose different colour resins in each setting if your wish.
Resin colours available
Our resin comes in twelve standard colours, but we can also create custom colours.
The basic colours that we work with are, purple, pink, red, orange, yellow, green, aqua, blue, and violet. Additionally, there are black, white, and transparent resin options.
We do our best to fairly represent these colours on our website and in our brochure. However, the finished colour of your chosen item may not be exactly the same. This is due to the fact that ashes vary considerably in colour. This, in turn, can affect the way the resin looks.
Sometimes, our jewellers may even suggest a change of resin colour to best present the ashes. However, this does not happen often.
Custom colours of resin
You can also ask us to create a custom colour for you if none of the standard colours that we offer is exactly what you are looking for. To do this, please include a colour swatch with your order. We will do our very best to match it.
Diamond dust
If you wish, you can also add a small amount of real diamond dust into the standard or custom colour of resin. This will give a subtle and magical sparkle which is best appreciated in bright sunlight.
Options of memorial jewellery with custom colours
All of our bespoke jewellery made with resin containing your loved one's ashes or hair and can come in custom colours. Our huge selection of items includes rings, pendants, bracelets, and earrings. Additionally, there are lockets and glass lockets with elements, charm beads, and cufflinks to choose from.
You can select your unique piece of jewellery in .925 Sterling Silver or have it individually created in White, Yellow, or Rose 9k Gold.
Each piece is lovingly crafted with great care and respect and carefully packaged for safe delivery.
Choose a piece of jewellery with custom colours to remember someone very special by and have them close forever.