DIY Wills - everything you need to know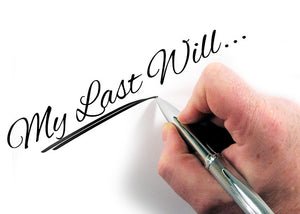 DIY wills can save you a lot of money. However, they are not always a good idea. Keep reading to discover if a DIY will is your best option.
What are DIY wills?
They are a will that you write yourself using a template. You can purchase a template from stationery shops or online. They cost about £30.
In fact, you can just write your own will on any piece of paper. As long as two adult indpendent witnesses are present when you sign it, it should be legal. However, using a template ensures the use of the correct legal terminology that could prevent any mix-ups. There are standard wordings and general rules to follow that make sure you express your intentions correctly.
Changes to the signing requirements due to COVID
Since January 31 2020, it has been possible to witness the signing of a will remotely in England and Wales. Due to the need for some people to shield, the government put this measure in place. Witnesses can use apps such as FaceTime or Zoom. You can find more information about this and other legal requirements for your will on the Government website by clicking here.
When is writing DIY wills a good idea?
A DIY will is a good option if your wishes are simple and there is unlikely to be any contentions. For example, if you have been married once and wish to leave everything to your husband or wife, or to your children if your spouse dies first.
However, if there are any complicating factors, it is probably wise to use a solicitor who can make sure that your wishes are met. For example, if you own property abroad or have foreign bank accounts or investments you should definitely seek professional advice. Also, if you are trying to reduce your Inheritance Tax bill, a solicitor may cost more now, but in the long run, your beneficiaries could get more from your estate. Additionally, if you are planning to leave your business to someone you will probably need legal advice. Furthermore, if there is anything in your will that could be misinterpreted or contested it is better to use a solicitor.
How to make sure your DIY Will is legal
Ensure that you sign, date and witness the will correctly. The template should have explicit details as to how to do this.
Check all spellings, particularly the names of the people who appear in your will.
Do not use terms such as my wife, or my best friend. You must be specific and put the person's full legal name.
If you have made a will previously, be sure to destroy the old one. Also, you must state in the new will, that it revokes any other wills made before.
Finally, tell the person who you name as your executor where you keep the will. They need to be able to access it on your death.