Double urns, so two people can be together forever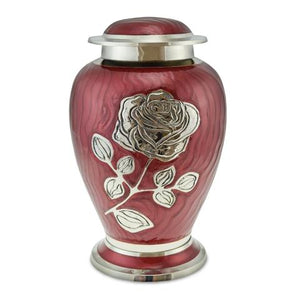 Double urns, so two people can be together forever by Kristina Kennedy-Aguero
Double urns have the capacity to hold the cremains of two adult persons. They allow a husband and wife, or two loved ones to rest together for eternity.
Remaining together forever
Many people who have enjoyed a long life in the company of another person choose to unite their remains after death. The thought of being together for all eternity can be calming and help people to face their death with serenity. Of course, it is unlikely, though not impossible, that the companions will pass away together. Probably, the remaining partner will find comfort knowing that the mortal remains of their loved one are waiting to be reunited with their own in a beautiful double urn.
What are double urns?
They are a large urn that has room for two people's ashes. A standard urn has a capacity of 200 cubic inches, while a double urn has a 365 cubic inch capacity. That means, that it can hold, the ashes of one or two people, with a combined weight of up to 25 stone.
Double urns are also known as companions urns or extra-large urns. Families select them not only to hold the ashes of two people but also the ashes of a larger person whose cremains would not fit into a standard urn.
What designs of Companion urns are there?
We offer five of our most popular brass urns in the extra-large size. The Going Home urn with its peaceful design featuring birds flying peacefully back to their home comes in a choice of three combinations. Choose from a white pearl urn with bronze details, or a black urn with bronze or nickel details. Alternatively, you may prefer the white sunflower urn or the red urn with a lovely blooming rose.
Addititonally, we offer miniature urns, and tealights in these same designs. This allows you to share a small amount of the cremains with close family members or friends. These items make very special gifts and one that the recipient will cherish always.
All of our urns are meticulously crafted to the highest of standards. Ordering is fast and simple on our website and most urns are in stock and ready to ship within twenty-four hours. Every urn comes with a velvet presentation box and a cloth bag for sake keeping.
Of course, most people will display their special urn somewhere where special. Especially if it contains the precious ashes of a beloved companion.