Gents Gold Memorial Jewellery- a special Father's Day gift.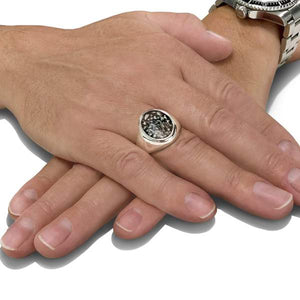 Gents Gold Memorial Jewellery is the perfect choice for a unique and touching gift this Father's Day.
What is memorial jewellery?
We create our memorial jewellery using a special coloured resin into which we carefully place some cremation ashes. Alternatively, you can choose to add hair, fur, or any solid substance in tiny pieces. Our jewellers carefully select and position the ashes or hair so that they look attractive.
Many people find comfort wearing memorial jewellery. It allows them to keep a part of a departed loved one close by always.
What Gents Gold Memorial jewellery styles are there?
We carry rings, cufflinks and pendants in our gents gold memorial jewellery range.
Our gents signet ring has a large circular mount where the beauty of the ashes can really be appreciated. While the gents traditional ring has two bands where the ashes are set and these can contain resins of different colours or with different ashes. We also carry a number of unisex rings that are suitable for both gentlemen and ladies.
There are four cufflink options to choose from, and two designs include sparkling Swarovski crystals.
In pendants there are five unisex cross options. Additionally to remember a special pet by there is a touching pawprint pendant.
Creating a unique gift
We offer three types of 9k gold. Choose from yellow, white, or rose. All our jewellery also comes in .925 Sterling Silver with a protective Rhodium plating.
Our special resin comes in a choice of twelve different colours, so you can create a personalised present. The resin is UV resistant so it will not fade or change colour over time. Additionally, it sets to a really hard finish that is very durable and will not crack, scratch, or break. Once set, the ashes will appear to be held suspended inside the resin and are held permanently safe and sealed within.
You can create an additional sparkle by choosing to add a touch of real diamond dust into the top layer of resin. When the light catches on the diamond dust it creates a magical glittering light.
Ordering your gents gold memorial jewellery
Father's day is not until June 19th but we recommend that you make your order soon. Our gold jewellery normally has a six week production time after we recive the ashes. However, with the current situation, your piece of jewellery could take up to ten weeks. So, order soon to make sure your special gift arrives in time.