Glass lockets with elements containing ashes set in resin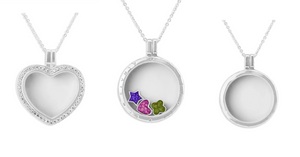 Discover our new range of glass lockets. They offer a unique and innovative way to create a special memorial to a departed loved one or loved ones. Keep your friend, family member, or pet, close by forever with these bespoke glass lockets with elements.
What are glass lockets?
Glass lockets are formed from two pieces of special toughened glass set into a delicately crafted Sterling Silver mount. Alternatively, you can special order your locket in 9k White, Yellow, or Rose Gold. There are four different glass locket designs available. A large or a small circle, a large or a small heart. A tiny hinge lets you open the locket and locate the "elements" of your choice in between then two glass faces.
What are "elements"?
The elements are small individual mounts in a variety of forms. Into these, we carefully enter the special resin containing the cremation ashes in whichever colour you wish. The elements come in five different designs and two different sizes. You can choose from twelve different resin colours to create each element. Also, you can include a tiny pinch of real diamond dust if you wish to create an additional magical sparkle.
There is also the large Petal Flower element which comprises of five separate mounts that form a lovely flower. You can choose a different resin colour and even include different ashes in each of the petals.
How do I create my personalised glass locket?
Choose the shape and size of elements you wish to incorporate in your glass locket. In a large locket, you can include up to five small elements or two large and two small ones. Alternatively, a small locket holds up to three small elements or one small and one large one.
It easy to change which elements you display in your locket. Simply open it up and remove or add elements as you desire. In this way, you can change the colour combinations to give a different look. Additionally, you can differ who you have accompanying you.
Why choose a glass locket memorial?
A glass locket gives you endless options to create different looks using the same base locket. You will find comfort having your friends, family members, or pets close by. This is a unique way in which you can have your loved ones with you always.