Gold Memorial Pendants to Fill Yourself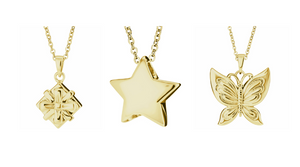 Our new range of self-fill gold memorial pendants allow you to carry a loved one with you always. You will find comfort knowing that your departed friend, family member, or pet is close by and still accompanying you.
Two self-fill collections to choose from
The new collection of memorial pendants to fill yourself come in a choice of precious metals. You can choose .925 Sterling Silver, or rose, white or yellow 9k gold memorial pendants. Each of these fine pendants is meticulously crafted and finely finished. There is a wide choice of designs and styles to meet all tastes. Some include crystals, others have colours, while engravings embellish others.
Our premium collection is a range of lovely pendants at accessible prices. We use a high-quality grade of stainless steel to create them. They are of exceptionally high quality and the choice of designs is extensive.
Filling gold memorial pendants
When you order any of our self-fill pendants we will send you a tiny funnel to make inserting the ashes inside easy. Also a small metal poker to encourage the ashes to enter. Some of the pendants have a screw that requires a special little screwdriver that we will also send you.
If, however, you do not want to insert the ashes yourself, with our premium collection we will do it for you. When placing you order, simply indicate that you would prefer for one of our jewellers to do the filling. We will then send you a small spoon and a sealed plastic bag so you can return a tiny amount of ashes to us in the FreePost envelope.
What comes with my keepsake pendant?
All of our keepsake pendants come gift wrapped. Additionally, a fine chain accompanies them. This is made of the same material as the pendant.
The premium range comes with 22-inch chains and the precious metal range with 18-inch chains.
If you would prefer a longer chain for your silver or gold memorial pendant we now offer curb chains in three different lengths. Choose from our strong and comfortable curb chains in 18, 20, and 22-inches. They are available in hallmarked Sterling Silver, rose, white, and yellow gold. These can be ordered separately to perfectly complement and enhance the beauty of  your gold memorial pendant.
Care of gold memorial pendants
The tiny screw that you remove to insert the ashes has a rubber gasket. This seals the inner chamber from moisture and air. You can be sure that the precious ashes are kept safe within. Some people decide that they would like to permanently seal the chamber. To do this, you can just place a drop of superglue onto the screw threads as you reinsert it.
Although the chamber is sealed, we do not recommend that you wear your memorial pendant in the shower or when swimming. The chlorine in swimming pools, the salt in the sea, and the chemicals in soaps  can all damage the shiny finish. Also, as these pendants are hollow they are somewhat delicate and should only be worn under normal circumstances. We would suggest that you remove your necklace when exercising, You can keep it safely in the gift box that comes with it.
We are sure that whichever of our self-fill memorial pendants you choose, having your loved one close to your heart will bring you peace and comfort.