Grief Therapy can help to overcome a bereavement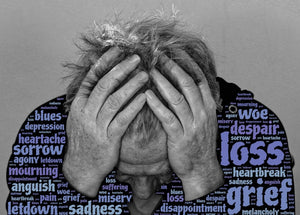 Grief Therapy can help you to come to terms with the death of a loved one.  Also known as bereavement counselling, it can guide and support you through the grieving process.
Everyone reacts differently to the loss of someone in their lives. There is no right or wrong way to grieve. However, many people find that they cannot move on after the death of a loved one. Grief therapy can help.
What is grief therapy?
Grief therapy is when a trained professional helps you to understand your emotions and thoughts. The counsellor or therapist give you the emotional support you need to face your situation. They will use therapeutic activities to assist you in learning to live with your loss.
Therapy can help you to cope with a recent death or a loss from the past which you have not resolved. It can guide you to accept and embrace the present. Sharing your innermost thoughts is not always easy. However, a trained therapist will help you to express yourself, and sometimes just talking to someone can really help.
Different Therapies
A trained grief therapist may specialise in one type of therapy or combine different ones, depending on the person's needs.
Counselling- involves talking through emotions and feelings
Psychotherapy- teaches strategies to cope with painful emotions
Cognitive Behavioural Therapy- helps to escape from negative thought cycles
Mindfulness- teaches how to become more aware of the present moment
Art therapy-encourages expression through creating art
Pet therapy- interacting with animals can calm and comfort
Family therapy-encourages communication and support between family members
Support groups- provide peer support between people experiencing similar situations
When is therapy necessary?
Many people seek grief therapy immediately after a bereavement and find that it helps them through the normal grieving process. Others seek a therapist when they feel that they are not coping with a death. Therapy is necessary when you feel depressed or unable to continue with your normal daily routine.
How do I find a therapist?
Your local GP can recommend a grief therapist in your area and give you a referral. Alternatively, you can contact a bereavement support organisation who can help you to find a qualified therapist.
Most therapists work face to face, but you can also find options for meeting with a grief therapist using a video conferencing program on your computer, tablet or smartphone. This can be a particularly useful option if you live in a remote area or are unable to mobilise yourself to a regular session.
If you find that you just need to talk to someone, the Bereavement Trust has a team of trained volunteers who offer comfort, support and practical advice to the bereaved from 6pm until 10pm, 365 days a year.  You can contact them on 0800 435 455.