How do I decide which urn for cremation ashes to buy?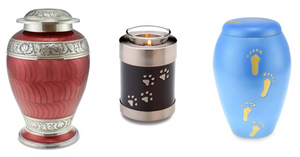 Choosing the right urn for cremation ashes can be confusing. There are so many different designs and materials to consider. Here are a few guidelines to help you to make the right choice.
Urn materials
You must decide what you will be doing with the urn. This will help you to decide which material is best suited to your needs.
What size of urn for cremation ashes do I need?
The amount of ashes produced from cremation can vary.
Most adult cremation urns for ashes have a capacity of 200-cubic inches. This is large enough to hold the ashes of a person weighing up to 14-stone (90kg).
Double or extra-large urns have a capacity of  365-cubic inches. They can hold the ashes of two average-sized adults or the ashes of a larger person weighing up to 25-stone.
Urns for children have different capacities from 41-cubic inches up to 200-cubic inches.
Most keepsake or miniature urns have a capacity of about 3-cubic inches for a small, token amount of ashes.
Styles, forms, and colours
We offer urns in both traditional forms as well as in modern alternatives. Our teardrop urns are a very popular design. There are sleek and simple designs, while some urns have intricate patterns or beautiful images. The range of different colours is extensive.
Take your time to look through the different options. Think about the person whos cremation ashes the urn will hold.  Alternatively, if you are planning to keep the urn in your home, consider how it will fit in with your decor.
Ordering and delivery
It is really easy to order your urn on our website. We offer different payment methods which are fast and secure. As soon as we receive your order we will ship your urn to you. You will normally receive your urn for cremation ashes within two working days. In the unlikely event that your chosen urn is out of stock, we will immediately notify you so you can modify your order if you choose.
All of our urns come in a black bag and are held within a beautiful presentation case.