Individually crafted memorial jewellery- reuniting families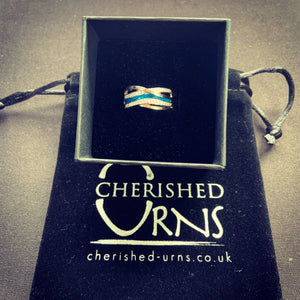 Individually crafted memorial jewellery- reuniting families by Kristina Kennedy-Aguero
Individually crafted pieces of memorial jewellery allow people to create a totally unique item. This lets them have something very special by which to remember their loved ones. Furthermore, this can bring them comfort and peace by reuniting the family.
I have discovered that there are many different ways in which people create a unique piece of jewellery. When replying to their reviews of our company and products I have been impressed by their creativity. Additionally, I have been moved by their stories and inspired by the comfort that they find in these pieces of uniquely crafted memorial jewellery.
Combine ashes in our individually crafted memorial jewellery
Our extensive range of items provides many different choices of individually crafted memorial jewellery. These give people lots of distinct ways to combine or unite the ashes of their loved ones.
Sometimes they choose to combine the ashes of two or more people together in one setting. Alternatively, in items with multiple settings, they can place different ashes in each mount. Either of these is a lovely way to reunite family members and to have them accompanying you always.
Combining hair and ashes in a single piece of jewellery
A recent review was from a person who chose one of our rings with two separate mounts. Into one of these, they asked us to insert some of their father's ashes in his favourite colour of resin. In the other, some hair of their mother, who is still alive, in her favourite resin colour. In this way, they could have both of their parents close by always.
Uniting two loved ones forever
Alternatively, many people choose to combine the ashes of their mum and dad, or grandma and grandad. In this instance, the ashes are combined in the resin and entered together into the mount. This way two people will be together forever. What a lovely way to pay tribute to a loving relationship.
Individually crafted memorial jewellery for a special occasion
Also, many people purchase a piece of individually crafted memorial jewellery so that a departed loved one can be with a person on a special day. Very often, this is a departed father who will accompany his daughter down the aisle on her wedding day. Sometimes, it is a grandma who will accompany her granddaughter on her 21st birthday. Whatever the relation, or the celebration, having a loved one accompanying you in a unique piece of memorial jewellery can be very special.
Matching items for all the family
On occasions, family members choose to have their loved one's ashes in different items of jewellery. They choose, however,  to create them all with the same matching resin colour. Alternatively, others choose the same piece of jewellery with different colours of resin.
There are many options to reunite your family with our wide selection of jewellery for both men and women and a choice of twelve resin colours.