Jewellery made with a loved one's ashes is the perfect Xmas gift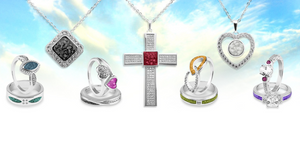 Jewellery made with a loved one's ashes makes a lovely gift for a family member this Christmas. Perhaps someone special who has recently departed could still be part of the celebrations. Or, you could include ashes from someone who passed away a long time ago and whose cremated remains you have safeguarded.
What is jewellery made with a loved one's ashes?
Skilled craftsmen individually create each piece of jewellery. They select a tiny amount of the cremation ashes and mix them with a special resin. This, they then invert slowly into the mount of the jewellery. It is a delicate process building up the resin gradually layer upon layer. This is how they achieve the spectacular ethereal effect. When set, the ashes hang suspended within the resin, safely sealed, and beautiful forever.
What kinds of jewellery are there?
We carry a wide selection of bespoke rings, pendants, bracelets, beads, earrings, and cufflinks. There are many different styles for both men and women and some that are unisex. You can see the complete range of jewellery made with a loved one's ashes by clicking here. All pieces are available in Sterling Silver with a protective Rhodium Plating. Some pieces you can choose in White, Yellow, or Pink Gold. However, these pieces will take longer to create and would not be ready for Christmas.
How do I order?
First, choose the piece of jewellery. Then decide on the resin colour. There are twelve different colours to choose from. Next, decide if you would like to add a pinch of real diamond dust into the mix. This gives the resin an added sparkle, especially in direct sunlight. Finally, you will make payment using a choice of payment options. If you are having trouble deciding, why not give a Cherished Urns Gift Card.
Once we receive your order, we will immediately send out a FreePost envelope in which to return the special sealed plastic bag into which you will place a small amount of ashes.  Please note, to be sure that your piece of jewellery arrives before Christmas we must receive the ashes back by December 6th. Click here to see our holiday opening hours.
If your order is a ring, we will also send you a ring sizer to choose the right size. If you are purchasing for someone else, you can use an existing ring to measure the size. Alternatively, you could choose an adjustable ring.
How do I receive my piece of jewellery made with a loved one's ashes?
We use a courier service who will give you a one-hour delivery slot. If you wish, you can send the piece of jewellery made with a loved one's ashes directly to the recipient as it comes already gift-wrapped. Please note, however, that any unused ashes will be returned in the same packet.
You can make this a very special Christmas for someone with a piece of jewellery made with a loved one's ashes. It is a touching gift that will be cherished forever.