Jewellery made with ashes, to keep a departed loved one close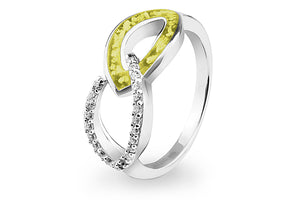 Creating a special piece of jewellery made with ashes can bring comfort after the loss of a special person.
Keeping someone close
The death of a family member or a close friend is hard to deal with. Some people find comfort in keeping some of the departed close by. Cremation jewellery lets you carry the person with you at all times.
Traditional cremation jewellery
Traditional cremation jewellery has a tiny compartment where you can insert a small amount of the cremation ashes of a departed loved one. A tiny funnel makes this a simple process. There is a wide range of styles and designs of pendants. Hearts and butterflies are among the favourites. Also, there are pendants for a special pets cremation ashes.
Jewellery made with ashes
A new technique lets you create jewellery made with ashes. This opens up the possibility to create your own customised piece of cremation jewellery. A small amount of cremation ashes is mixed with a special resin, where they remain suspended and visible. This is inserted into a mount or groove in the selected piece of jewellery. There are many different pendants, bracelets and rings to choose from. There are styles for men and women. Some are elaborate to wear on special occasions. Some are practical for everyday wear.
Making a custom piece of cremation jewellery
First, choose the design of ring, pendant, or bracelet you wish to create. Then choose the colour of resin. There are nine different colours and a clear one. Choose from Aqua, Blue, Green, Orange, Pink, Purple, Red, White or Yellow. Perhaps you will choose your favourite colour or that of the deceased. Next, place your order. You will receive a packet containing a ring or bracelet sizer along with a bag in which to send a small amount of ashes to us in the Freepost envelope. Within three to four weeks you will receive your customised piece of jewellery made with ashes.
Wear your jewellery made with ashes proudly
Each piece of jewellery is lovingly crafted from high-quality materials. Choose from silver, stainless steel, rose gold plating or yellow gold plating. Some pieces have brilliant shining Zircons inserted into them. Most pieces show the cremation ashes set in the coloured resin. However, if you choose not to tell anyone what it is they will assume it is simply a beautiful piece of jewellery. Other pieces can be worn in reverse so that the ashes are carried close to your heart where only you will know.