Jewellery which incorporates ashes by EverWith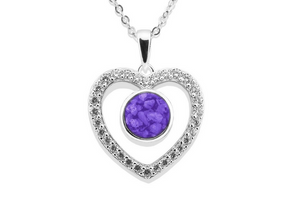 A piece of jewellery which incorporates ashes is a lovely way to always keep a departed loved one with you. Be it a friend, family member, or beloved pet, many people find comfort wearing a piece of memorial jewellery.
There are now several companies offering jewellery which incorporates ashes. So, why should you choose to purchase EverWith™ cremation jewellery from Cherished Urns?
1. Outstanding service
At Cherished Urns, we try to make the entire ordering, crafting, and delivery process as smooth and simple as possible. Our website is really easy to use and we have a chat line where you can communicate with us if you have any questions. What's more, we keep you up to date with the progress of your jewellery via email. We understand that putting some of the precious ashes into the post, can be stressful. That's why we let you know as soon as they arrive. We also take the utmost care of the ashes and treat them respectfully throughout the process. In the end, if there are any left over these are returned to you.
Our team are always on hand to answer your questions and to solve any problems. Considerate and caring customer service is of the utmost importance to us. Click here to read real reviews left by our customers.
2. Fast delivery
We can normally produce your chosen piece of jewellery and deliver it to you within seven days of receiving the ashes.
3. Large choice and high quality
We carry an unrivalled selection of jewellery made with ashes. Options include rings, pendants, bracelets, earrings, and cufflinks. Some are traditional while others have more modern styles. Some incorporate beautiful shining Swarovski crystals. Each piece is individually hand-crafted using the finest materials and inspected before shipping.
4. Our special resin
The special resin we use to mix with the cremation ashes comes in twelve different colours. This lets you create a very personal and special piece of memorial jewellery. When dry, the resin sets very hard and looks like a polished stone. The ashes remain permanently suspended within it where they create a beautiful ethereal effect. Our resin is UV-resistant so the colour will never fade.
5. Add sparkle to your jewellery which incorporates ashes
You can add some real diamond dust into the mix to create a subtle effect.
6. Comes with presentation box
A piece of jewellery incorporating ashes is ideal for gifting, so each piece of jewellery comes in a lovely black velvet presentation box.