Keepsake urn tealights can light up your Christmas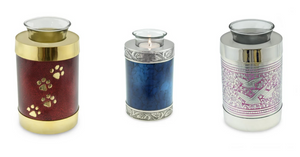 Keepsake urn tealights are a lovely way to include departed family members this Christmas time. Light the little votive candle in remembrance of a departed loved one. These miniature urn tealights will beautify your home this Christmas and can help you to cope with the absence of someone special.
Christmas, a time for family
Christmas is traditionally when families come together. That means, that it can be a hard time of the year if a member of your family has recently departed. Or, even if they have died a long time ago, their absence can often be harder to deal with at family celebrations.
What are keepsake urn tealights?
Keepsake urn tealights are miniature urns made of brass. You can insert a small amount of cremation ashes inside them, where they will be safe and secure. A small glass candle-holder inserts into the top. Here, you can light a tiny votive candle or a tea light candle in memory of the departed.
We offer eighteen different keepsake urn tealights to chose from. Each one is beautifully crafted and the detailed engravings are finely finished. There are many different colours including pink, red, blue, purple, yellow, black, and white.  The designs include birds flying peacefully home to rest, roses, butterflies, sunflowers, paw prints, and intricate geometrical designs.
Many of our large urns have matching keepsake tealight urns, and some have matching photo frames also.
Why chose keepsake urn tealights this Christmas?
First, it lets a departed loved one join the rest of the family. It gives you something tangible so that you can feel that they are still part of the celebrations. Still present and close by.
Secondly, when you light the little candle, the flickering light illuminates the details of the little urn in a special way. Contemplating the changing colours of the tiny flame can let your mind wander back over happy memories. The warm, gentle light of the little candle encourages meditation and calm thought.
Also, if you hold one of the miniature urn tealights in your hands, the brass has a solid, cool feel to it that can help to centre and ground you.
Lastly, this lovely tribute can help you and your family to communicate. Take advantage of having your family near to express your feelings and share your emotions. Together, you can support each other to overcome the sensation of loss. Also, you can begin to create new happy memories together.
Order soon to ensure delivery before Christmas, so that all the family can be together this holiday season.