Learn how to take care of cremation jewellery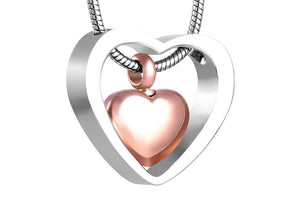 Follow our suggestions on how to take care of cremation jewellery to enjoy its beauty for many years.
A piece of cremation jewellery holds a very special content. A token amount of the cremation ashes of a departed person or pet. Our lovely range of cremation jewellery pendants lets you keep a loved one close to you forever. Each piece is made from high-quality stainless steel and finely crafted.
The biggest piece of advice, however, is to always keep some ashes spare in case of loss.  Sadly, jewellery by its very nature can be fragile and easily misplaced, so therefore we always recommend keeping a small amount of ashes at home.
To keep the precious content of your cremation jewellery completely safe we suggest that you follow these indications.
Tips to take care of cremation jewellery
Avoid getting your cremation jewellery wet. We advise you to remove your pendant for showering, bathing or swimming.
Remove during sporting activities. Due to the delicate craftsmanship, we suggest that you take your pendant off when participating in any kind of contact sport or where you will be sweating.
Seal the thread with superglue. We recommend applying a tiny amount of loctite on to the thread after inserting the ashes. This ensures that none of the precious contents can escape in the unlikely event that the sealed chamber should work open.
Treat your pendant gently. Due to their small size, and the fact that cremation pendants are hollow, they are quite delicate. We advise you to only wear them under normal circumstances.
Keep them safe. We suggest that you keep your cremation pendant safely in the presentation box when you are not wearing it. Take care not to lose this precious piece of jewellery by always putting it in a safe place when you remove it.
A piece of cremation jewellery can last a lifetime
If you follow the above instructions, there is no reason why your piece of cremation jewellery with its precious contents cannot accompany you for a very long time. As with any delicate and finely crafted piece of jewellery, adequate care is essential to keep it in perfect condition.
To maintain the bright shiny finish of the stainless steel avoid getting it in contact with anything that might mark it. This includes water, sweat, soaps, perfumes and make-up. If you notice any slight discolouration, immediately polish with a jewellers cloth. Or, use an appropriate cleaning solution.
Careful storage will keep your cremation jewellery looking like new
Keep your pendant in the presentation box it comes with when you are not wearing it. Here, it will be protected from the elements. Additionally, you will always know where to find it.