Lockets with ashes, a very special Valentine's present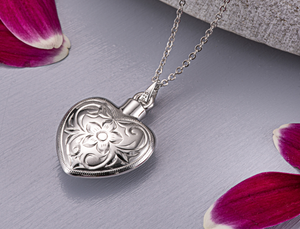 Lockets with ashes make perfect Valentine's presents.  Many people find that jewellery made with ashes allows them to feel that their departed love is still close by. Memorial jewellery can bring much comfort to someone who has lost a loved one.
Traditional lockets with ashes
We offer a choice of twelve different traditional lockets with ashes. Each one is meticulously crafted in hallmarked .925 Sterling Silver which has a Rhodium plating to prevent tarnishing.
There are circles, ovals, rounded rectangles, and many different hearts to choose from. Some are simply smooth and highly polished whiles others have delicate engravings.  There are stars, and "Trees of Life", footprints, pawprints, and roses. Others have words like, "Mum", "Dad", and "Always in my heart", written in a lovely flowing script.
Within the locket, we fill one side with the resin containing the ashes. There are twelve resin colours to choose from. If you wish, you can include a sprinkle of real diamond  dust to create a magical sparkle. Our expert jewellers build up the resin layer upon layer to create a profoundly beautiful effect. The ashes float suspended within the resin, clearly visible, and safely protected forever. In the other side of the locket, you can insert a tiny photo.
Glass lockets with ashes
Our glass lockets come in four different styles. There is a large and a small circle, and additionally a large or a small heart with Swarowski crystals. These lockets come in hallmarked .925 Sterling Silver with a protective Rhodium plating. Additionally,  you can request them by special order in rose, yellow, or white 9k gold.
The lockets have a glass front and back, mounted in the metal of your choice. You open the locket to insert one or more "elements". There are seven different elements to choose from and they come in two different sizes. The resin containing the ashes is set into the elements. This means that you can create a very special locket changing the combinations of elements as you choose. Again, there are twelve resin colours and the diamond dust option.
Ordering and delivery
As soon as we receive your order online we will send a special kit. This contains a small labelled bag in which to insert a small amount of ashes and a Freepost envelope to send them to us. As soon as they arrive we will let you know, as we know that posting ashes can be stressful.
We can deliver the locket with ashes to any address you wish and we send it tastefully gift wrapped.
Make a very special gift to someone this Valentine's Day, with a locket that holds their loved one close forever.