Memorial ashes jewellery for a special Mother's Day gift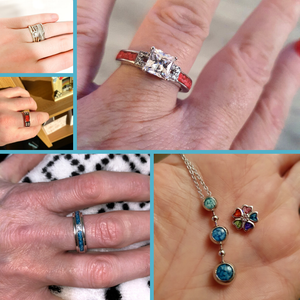 22 Feb 2021, by Kristina Kennedy-Aguero
Memorial ashes jewellery is a touching option for a unique and special gift this Mother's Day. Our range of bespoke jewellery is crafted with care, respect and much love. We can create a present that your mum will adore and cherish forever.
How do we make memorial ashes jewellery?
We use a special resin to create our range of jewellery. We carefully select, with much care and respect, the most beautiful pieces of the cremains to include in the piece of jewellery. As we pour the resin into the jewellery mount, we carefully place the ashes. We build the resin up gradually layer upon layer. This is how we create the wonderful, deep, ethereal effect. The ashes will remain permanently sealed and protected within the resin. They will be perfectly visible and appear to be floating peacefully within the coloured resin.
Why do we use resin for our memorial ashes jewellery?
Resin has several advantages over using glass for this purpose. Firstly, it is lighter, so it's more comfortable to wear. Secondly, it is safer, as the resin will not break, shatter, chip, or crack as glass might. Also, from a design point of view, resin allows much greater freedom as it can be poured into much daintier and more intricate settings than glass.
The resin we use is UV resistant so it will not fade or change colour. It sets very hard and the surface will not scratch or dull with time. There is a choice of twelve lovely colours and you can choose to include a sprinkle of diamond dust to add an extra magical sparkle.
What jewellery choices are there?
Our collection of memorial ashes jewellery includes pendants, lockets, bracelets, earrings and charm beads. Our most popular items are the rings. If you wish to order a ring for your mum you can use the ring sizer we send to gauge the size using one of her other rings.
Take your time to browse through the selection and decide which style your mother would like best. Then decide the colour of resin you wish to use.
How do I order?
Ordering is easy and we have several different safe payment options. If you have any questions, our friendly team will be happy to help. After placing your initial order we will send you a special kit. This includes a labelled sealed plastic bag in which to send us a small amount of ashes. As soon as they arrive we will let you know, and we keep you updated throughout the crafting process, right up to coordinating the delivery.
Make your mother's day really special this year with a unique and incomparable gift that will touch her heart.