Memorial bracelets made with cremation ashes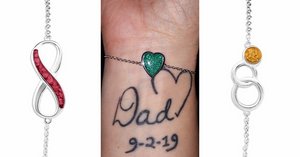 Bracelets made with cremation ashes come in many different styles and designs. Also, as there are twelve different resin colours to choose from so you can create a very special personalised memorial bracelet to keep a departed loved one close always.
What materials are the bracelets available in?
Our bracelets made with cremation ashes come in either hallmarked .925 Sterling Silver or in 375 9k Yellow, Rose, or White Gold. Silver bracelets are normally delivered within seven days. Gold bracelets will take between four and six weeks to create.
Sterling Silver bracelets have a 0.075-micron Rhodium plating that protects them from tarnishing, discolouration, and scratching. The Rhodium plating gives the silver a lovely sheen a lot like white gold. Each bracelet has a charm attached to a 15-cm chain which is secured with a 5-cm lobster clasp. This allows you to adjust the bracelet for security and comfort.
How do you include the ashes?
You will send a small amount of the cremation ashes to us in a sealed bag using the Freepost envelope we send you when we receive your order. We mix a tiny amount of the ashes with our special resin, in the colour you choose, and carefully enter it into the charm. We do this very gradually, allowing each layer to set before adding the next, to create the beautiful magical effect. The ashes will remain suspended and safely sealed within the resin for all time.
Our special resin is UV-resistant, so it will not fade, or change colour over time. Also, it sets to a very hard finish, which will not scratch, chip, or break. This means that you can wear your memorial bracelet every day without worries, and always have your departed loved one near.
A touch of diamond dust?
If you would like to create an extra-sparkly effect, you can add a pinch of real diamond dust into the mix. When the sunlight reflects off the diamond dust it creates an even more beautiful,  magical, and ethereal effect. Also, instead of using ashes, if you prefer,  you can include a strand of hair or some other small dry substance.
Which one of the bracelets made with cremation ashes to choose?
We have thirteen different designs to choose from as well as charm beads that you can include in your existing Pandora bracelet. There are hearts, angel wings, infinity symbols, interlocking rings, and many more lovely styles. Some include bright, sparkling Swarovski crystals while others have several charms that you can fill with different colours of resin.