Memorial cremation ashes jewellery for gentlemen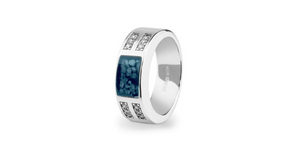 Men can also find comfort wearing memorial cremation ashes jewellery. That's why we offer several different products in our EverWith range of jewellery crafted from ashes, especially for the discerning gentleman.
Cremation ashes jewellery for men
Choice of materials
All of the above items are available in a choice of four different materials. Choose from .925 Sterling Silver, White, Yellow or Rose Gold. Additionally, items in silver and white gold have a special Rhodium plating which prevents tarnishing and maintains a bright shininess.
Choice of Resin Colours
We offer twelve distinct colours of resin. Choose from pink, blue, aqua, or green. Additionally, there is violet, orange, white, or black. Transparent, purple, yellow, and red are also available.
A tiny amount of ashes is mixed with the resin in the colour of your choice. This is then carefully entered into the mount, and when set, the ashes remain suspended within the resin to create a beautiful ethereal effect. The set resin is very hard and durable and will not chip. Also, it is UV-resistant so the colour will never fade.
If you like an extra sparkle you might choose to add a sprinkle of real diamond dust into the resin mix.
How to order
First, choose the style, material, resin colour, and if you want diamond dust. Next, we will send you a special envelope to return us a tiny amount of ashes. We keep you updated throughout the crafting process.
Jewellery in standard sizes in Sterling Silver will be sent back to you in just seven days. Gold pieces will take 4-6 weeks.