Memorial lockets made with a loved one's ashes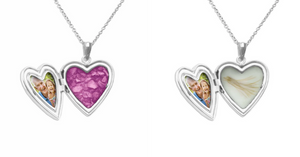 Memorial lockets are a lovely, discreet way to keep a departed loved one close to your heart.
What are memorial lockets made of?
Our collection of memorial lockets are hand-crafted from hallmarked .925 Sterling Silver. Each one is lovingly created by skilled craftsmen, and they are elegant and dainty. Each locket has a 0.075-micron plating of Rhodium. This protects the locket from scratching and also prevents tarnishing. Additionally, it gives the locket a bright, shiny finish rather like white gold. Every locket comes with a Sterling Silver eighteen-inch cable style chain which weighs one-gram.
Which locket should I choose?
We offer thirteen different styles of memorial lockets including round, oval and heart-shaped. Some are engraved with images such as a shining star, a tree of life, a pink rose, tiny footsteps, or a paw print. Others have a highly polished bright and shiny plain surface. Some have a word or phrase engraved in a beautiful flowing script. Inscriptions include the single word "mum", and "dad", and the phrase 'Always on my mind'.
What is the inside like?
Inside our memorial lockets, there is space for a special photo in one half. The other side we will fill with the coloured resin containing the ashes of your departed loved one. If you prefer, you can include hair instead of cremation ashes.
The special resin that we use come in twelve different colours and when set looks like a polished stone. The ashes mixed with the resin are entered gradually, layer upon layer into the mount, and the end resulting is truly exquisite and ethereal. If you wish, you can add a touch of real diamond dust into the mix to create an extra sparkly effect.
When closed, the locket appears like any other, so no one needs to know of its secret contents unless you wish them to.
How do I order a memorial locket?
First, choose which design you like best. Then which colour of resin you desire, and if you wish to include diamond dust.
As soon as we receive your order we will send you a special sealed bag in which to place a small amount of the ashes to include in your locket. We include a Freepost envelope for their return, and as soon as we receive them we send you a confirmation email. We understand that sending precious ashes through the post can be stressful. That's why we keep you updated throughout the crafting procedure.
Within fourteen days you will receive your completed locket in a lovely gift box and delivered to the address you indicate. If there are any extra ashes, we will return them with your locket.