Memorial pendants that you can fill yourself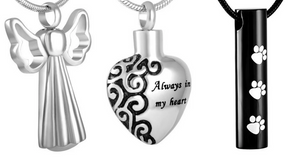 Memorial pendants are a popular way to keep a departed loved one close by. Some types of memorial jewellery contain the ashes fused into a special resin. This type of jewellery takes a while to create as each piece is individually crafted. It is too late to order one of these for Christmas, but we have a lovely range of self-fill pendants that you can choose from.
What are self-fill memorial pendants?
They are beautifully crafted pendants that contain a secret hollow compartment. You enter a small amount of cremation ashes into the chamber via a small hole. To make this easier, we send you a tiny funnel with your pendant. A small screw then enters into the hole to seal the compartment. We also include a mini screwdriver to make inserting the screw simple. The screw has a tiny rubber gasket to make the compartment water-tight. It also has a long thread for added security. If you wish, you can put a drop of superglue on the threads to seal the compartment permanently.
What are they made of?
Our range of value cremation jewellery is made from stainless steel. That means that it will always look bright and shiny and never tarnish. Each pendant has a twenty-two-inch chain and comes in a lovely presentation box ideal for gifting. We offer a wide selection of different designs suitable for both men and women. Some are elaborate and showy, while others are elegant or discreet. Some include shiny Swarovski crystals, some enamelled designs, while others have bright colours. Take your time to choose the perfect memorial pendant as a special gift for a loved one this Christmas.
Why chose a memorial pendant you fill yourself?
First, if you order soon, it will arrive for Christmas.
Second, many people worry about sending ashes through the post to craft a bespoke piece of jewellery. This way you can fill your pendant yourself.
Thirdly, the price of self-fill memorial pendants is, of course, much lower than custom-crafted ones. That makes them more accessible, yet does not diminish their beauty or fine craftsmanship.
Lastly, the gift of a memorial pendant is really special. Many people find huge comfort knowing that their departed friend, family member, or pet is still close by and accompanying them. Contemplating the beauty of one of these special memorial pendants can fill them with happy memories that can bring them console and help them to find peace.
What a very special gift to give this Christmas.