Memorial Teddy Bear brings comfort with a hug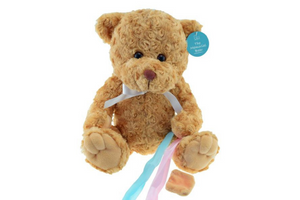 A memorial teddy bear offers a lovely way to keep the presence of a departed loved one nearby and tangible. This lovable bear can help to ease the pain of the loss of a loved one. He is suitable for adults and children over three years old.
What is a memorial teddy bear?
He looks like a normal teddy. He stands 30-centimetres tall and has soft, light brown, curly fur, a smiling face, and gentle eyes. The memorial bear comes with a white ribbon around his neck. Or, you can change this for a blue or a pink one which are also included.
He may look like any other bear, but this teddy hides a secret. In his back, a six-centimetre opening extends 4-centimetres into the bear to form a concealed pocket. Inside, there is a small pouch.
What can go into the pouch?
You can place any small keepsake you choose into the pouch. Anything that belonged to the deceased, or something that they wore. Maybe a lock of their hair, or something that they valued. Alternatively, you can place a small amount of cremation ashes into a sealed plastic bag and enter them into the pouch.
The pouch fits securely into the hidden pocket, so not everyone needs to know of teddy's hidden secret.
Why choose a memorial bear?
For children and youngsters dealing with the loss of someone close to them can be very hard.  Many are unable to comprehend where the person has gone. A bear which contains something of the departed within them can help them relate their loss.
Children may talk to or even converse with the bear as if it was the actual deceased person. This can be cathartic and helpful in the healing process. It allows children to verbalise and express their fears and emotions regarding their loss. An observing adult may be able to discover suppressed emotions which could be important in helping the child to heal.
A memorial teddy is not just for kids
When we are hurting inside, we can all benefit from a hug. As adults, it can sometimes be hard to ask for a human hug. This bear, however, willingly gives out comforting hugs without being asked.
A memorial teddy bear is soft and lovable and many people, both adults and children find great comfort in a bear hug.
The memorial teddy bear makes a touching gift for young and old.