Miniature tealight urns can bring joy this Christmas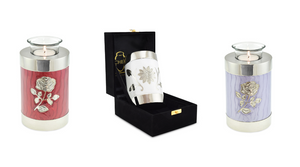 Miniature tea-light urns are a lovely choice of gift to bring light and joy to this difficult Christmas time. The loneliness that people who have lost a loved one this year will be more intense than ever. Usually, during this period they would be reuniting with their families and so receive support. This year, however, things are different. With the pandemic that we are currently experiencing, people are being encouraged to not visit their families to prevent the spread of the virus. That means, that many people, especially of the older generations, will be facing a Christmas alone this year.
Let your older members of the family know that you care
For younger people it is easy to keep in touch with WhatsApp, Skype, Zoom, and the multitude of other options that are available. However, for older people accessing these technologies is not so easy. When their children and grandchildren were able to visit, they were able to assist them in setting up these platforms of communication. Now, many elderly people are reliant on the traditional ways of communication. Letters, phone calls, and notes dropped through the letter box.
Presents to bring comfort this Christmas
In this year, in which we are not able to get together with our loved ones, gifts that can be safely delivered to the home of the recipient can bring much comfort. At Cherished Urns, we offer a delivery service to the address of your choice that respects all of the safety norms in place at this difficult time.
Miniature tea-light urns make the perfect gift
Miniature tealight urns make a lovely gift alternative for this Christmas. We offer a wide choice of designs and these combine also with photo frames and with larger urns.
If someone close to you has lost a loved one this year, a miniature tea-light urn is a really special gift option. Each one is meticulously crafted in brass with fine details in a choice of moving designs. The top unscrews to allow the recipient to insert a small amount of cremation ashes into the little urn. Above a glass reflector increases the brilliance of the flame emitted by the tiny candle that we include.
Each miniature tea-light urn comes in a velvet bag and within a presentation case, ready for gifting.
Tea-lights can bring comfort to a loved one
We all know how sitting around a campfire and observing the flames can let our spirit run free. The same can happen with the flickering flame from the little candle in a tea-light. Observing this natural wonder can allow people to centre and connect with happy memories.
Bring comfort to someone this Christmas with a tea-light urn.