Mothers Day gifts to bring back happy memories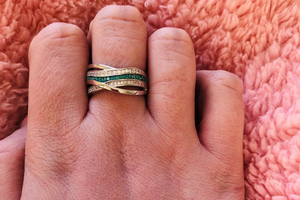 A Mothers Day gift can mean so much to the recipient. So, this year why not choose something really special that will fill your loved one with happy memories. Jewellery made with cremation ashes makes the perfect mothers day gift for a person who has lost someone special.
Choosing the perfect piece of jewellery
We have an extensive range of rings, earrings, pendants, and bracelets to choose from. Each one incorporates a tiny amount of ashes into the special resin which is set into the mount of the piece. When hard, the resin is extremely durable and has the appearance of a polished stone. The ashes are held suspended within the resin where they remain safe and visible for all times.
If you choose to have a ring made, we will send you a kit which includes a ring-sizer. You can use this to measure the size of an existing ring belonging to the future recipient.
We offer both traditional and modern styles so you can be sure you will find something ideal for that special person. Whether you are looking for something for your mum as a remembrance of her parents or husband, for your daughter in memory of her grandma, or for grandma to pay tribute to her loyal dog.
It doesn't have to be ashes
Usually, we add cremation ashes into the mix. These create a wonderful ethereal effect and you can even add a sprinkle of diamond dust for an extra sparkle. However, you can add other substances into the resin instead, which create equally beautiful effects. You can add hair, fur or feathers. Leaves, petals, paper, or sand, are other options. Just about anything solid, which is in a very small state can be added.
Why memorial jewellery is a perfect Mothers Day gift
On Mothering Sunday we pay tribute to all the special women we have known and loved. What better way to celebrate this special day than sharing the love for those who have departed.
Many people find great comfort from wearing a piece of jewellery containing a small part of, or something that reminds them of a departed loved one. They feel that person, or pet, still accompanies them, giving them strength and bringing them peace.
Order your piece of memorial jewellery for that special person soon. We normally produce and ship within seven working days but this is a busy time of year. We keep you updated throughout the entire crafting process and each piece comes beautifully presented in a black velvet case ideal for gifting.
Make someone really happy with a very special Mothers Day gift.