Our most popular cremation jewellery memorial ashes ring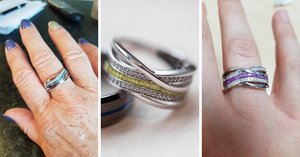 Our most popular piece of cremation jewellery is the Ladies Waves Memorial Ashes Ring with Swarovski Crystals.
Like all of our custom-made pieces of memorial jewellery, this ring can be a special way to keep a departed loved one close by forever. Many people find great comfort knowing that their family member, friend or pet is still accompanying them. Also, some people find that when they contemplate the ethereal beauty of their memorial ashes ring they are filled with happy memories. These can bring console and peace.
What is the waves memorial ashes ring like?
This popular ring comes in .925 hallmarked Sterling Silver. Or, you can choose it in 9k Rose Gold, 9k White Gold, or 9k Yellow Gold. It consists of four interwoven bands. Two of the bands contain bright shiny Swarovksi Crystals. These extraordinary lead crystals are manmade yet they almost have the brilliance of a real diamond. One of the bands is solid metal. The final band holds the coloured resin containing the cremation ashes.
The special resin
We use a high-quality resin which sets to a very hard finish. That means that it will never scratch, chip, or break. Additionally, it has UV protection so the rich colour you choose will never fade or change. There is a choice of twelve different resin colours into which a tiny amount of the ashes is mixed. We carefully enter the resin into the band layer upon layer. This is how we achieve the magical ethereal effect the make this memorial ashes ring so lovely.
Some people add a touch of real diamond dust into the resin mixture. This creates an additional sparkle when the sunlight catches on it.
The ashes
We carefully choose the flakes of ashes that will combine best with the chosen resin colour. Our artists work on each ring separately, in hygienic, controlled conditions. They treat the ashes with the respect and meticulous care that they deserve. We return any ashes that we do not use in the creation of the memorial ash ring.
What people say about the Ladies Waves Memorial Ashes Ring
"I am over the moon with my ring it is beautiful it means so much to me" G.N.
"Unbelievable" A.G.
"A beautiful ring. Even nicer than I expected" Anon.
" A very pleasing product, exactly as depicted in the photo" T.A.
"Absolutely beautiful" N.D.
"Product exceeded expectations a very nice ring quality made the diamond dust adds additional sparkle and is recommended" D.H.
You can read many more verified customer comments on the review page of this product. Also, there are many beautiful photos that our satisfied customers have shared of their memorial ashes rings.