Pendants made with ashes keep a loved one close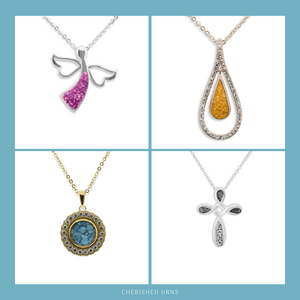 15 March 2021, by Kristina Kennedy-Aguero
Pendants made with ashes let you carry a loved one close to your heart always. Many people find comfort knowing that they still have a part of someone special with them.
What kinds of pendants are there?
Our pendants made with ashes come in a wide choice of styles and designs. You can choose from simple forms like circles, diamonds, ovals, or stars. More complex forms such as butterflies, angels, and keys are also available. Hearts and crosses are, of course, very popular so we offer several distinct options in these designs. There are even pawprint pendants, to pay tribute to a very special pet.
Some pendants include genuine Swarovski crystals which glisten and shine with elegance and grace.
What do you create the pendants made with ashes from?
Each pendant is meticulously crafted in the precious metal of your choice. You can choose from pendants in .925 Sterling Silver or in Rose, Yellow, or White 9k Gold. The silver and the white gold pendants have a Rhodium plating. This protects them from tarnishing and scratching.
All the pendants contain one or more mounts into which the resin containing the ashes is carefully entered. There are twelve different resin colours to choose from and in some styles, you can combine more than one colour in the different mounts. You can even ask to add different ashes into each mount. Alternatively, you may want to unite two departed people and choose to mix some of each of their ashes together.
If you wish, you can include a tiny pinch of diamond dust in with the ashes. This creates a wonderful sparkle, especially when in bright sunlight.
All of our pendants made with ashes come with a chain included. Alternatively, you can choose to upgrade and so select from different styles and lengths of chain to suit your taste.
How do you make pendants with ashes? 
We make our pendants with much care, love, and respect. Our skilled jewellers select the best pieces of ashes to combine with your chosen resin colour and style of pendant. They carefully invert the resin into the mount building it up layer upon layer. When finished, the ashes are set in the resin permanently and appear to float in a beautiful manner.
If you prefer, you can include other substances instead of ashes. Some people choose hair, fur, or feathers. Whatever you choose, you can be sure that our expert craftspeople will create the most exquisite piece of jewellery possible for you.
Each of our bespoke pendants made with ashes is totally unique and a wonderful way to remember a departed loved one and keep them close forever.