Scatter tubes for a smooth final farewell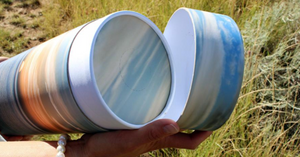 Scatter tubes are specifically designed for the task of scattering cremation ashes. They help to ensure that the final farewell is a calm and dignified event.
What are scatter tubes?
A scatter tube is a sturdy cardboard tube sealed at one end and with a lid on the other. When the lid is on, the tube provides a secure way to transport cremated remains to the place where they will be dispersed.
When you reach the desired scattering spot, you simply push in the special tab of the easy-open lid to allow trouble-free dispersal.
The diameter of the tube lets you get a firm grip so that the dispersal is completed in a controlled, calm, and dignified manner.
All our scatter tubes come with full instructions and glue.
Are there different sizes of tubes?
Yes. We have large scatter tubes with a capacity of 240-cubic inches. These measure 37-cm and can comfortably hold an average person's ( up to 105-kilos) cremation ashes. We also offer small tubes with a 20-cubic inch capacity. These are suitable for pets and infants. They are also ideal for sharing out ashes so that various people can simultaneously participate in the scattering ceremony.
Are there different designs to choose from?
Yes, we offer many different designs and each scatter tube is finely colour printed with a wide spectrum of shades.
The designs include ocean sunsets,  a flying dove, a rainbow over a lake, autumn leaves, and a mountain view. There is a field of sunflowers, a forest of bluebells, and many other flowers including forget-me-nots, lilies, orchids, roses and poppies. The 19th hole is ideal for a departed golfer, while for children there is a charming teddy. There are also various solid colours.
Can scatter tubes be recycled?
Yes. Our scatter tubes are made of cardboard which can be recycled. Alternatively, you can compost them as they are totally biodegradable and contain no metal or plastic parts. Or, you can reuse them to store pens or other items and so continue enjoying the beautiful scenes depicted on them.
Can I take a scatter tube on an aeroplane?
Yes. Scatter tubes can be taken as hand luggage on most major airlines.
Tips for a peaceful last farewell
Before beginning to scatter the ashes, take note of the wind direction and place yourself upwind. This will ensure that ashes get blown away from you.
If you are going to scatter the remains in a public place, choose a time when there are not many people. This way you will be able to enjoy a more intimate final farewell.
If you are planning to scatter on private property you should seek the prior consent of the landowner.