Scatter tubes make ash dispersal calm and easy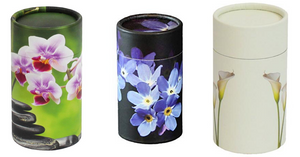 Scatter tubes are the perfect way to ensure that the dispersal of your loved one's ashes is the dignified occasion that they deserve.
What is a scatter tube?
A scatter tube is a sturdy cardboard tube in which you can transport cremation ashes. They have secure, close-fitting lids. This ensures that the ashes are safely stored within, until you are ready to release them.
Scatter tubes come with many different designs ideal for a wide variety of situations and tastes. There is a range of colours and finishes, along with high -resolution photos depicting peaceful scenarios. These can help to make the final farewell a unique and tranquil moment.
Do scatter tubes come in different sizes?
Yes. The standard size has a capacity of 240-cubic-inches. This is perfect for the cremation ashes of an average-sized adult. The smaller size has a 20-cubic-inch capacity, ideal for a child or a beloved pet. Additionally, this size of tube can be used for sharing the ashes of an adult between various friends or family members for a special final farewell together.
Why use a scatter tube?
Scatter tubes are the perfect place to store cremation ashes on a temporary basis. They are relatively inexpensive and you can reuse, recycle, or compost the tube after use. Also, you can carry scatter tubes in your hand luggage on most commercial airlines. This means, if you wish to fly to a special place to scatter the ashes of your loved one, you can safely transport the precious ashes in one.
Scatter tubes have a special push-in lid which allows a controlled and calm opening. They have a convenient diameter so that you can grasp them securely and comfortably to make the scattering a stress-free and special moment.
Where can I scatter ashes?
If you scatter ashes on private land you should get the landowner's permission. On public land, you should be aware of the rights of other users and maybe pick a time when not many other people are present. This will allow you to make the moment more intimate and special.
You can scatter ashes into rivers, lakes, or the sea. However,  you should follow the environmental agency's guidelines to avoid contaminating any water sources. Also, be sure to take into account the direction and force of the wind before you begin to scatter the ashes to avoid any problems.
Scatter tubes are the best option for a stress-free dispersal of a loved one's ashes.