Scattering ashes-some unusual options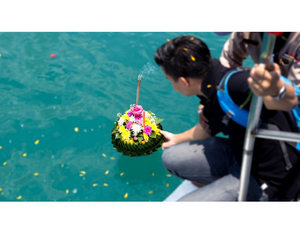 Scattering ashes can be a peaceful private moment in a favourite spot. However, some people choose to go out in a less conventional way. Here are some ideas if you are looking for a different way to dispose of cremated remains.
Scattering ashes from a plane
There are a number of options to do this. Usually, spectators observe from the ground. The pilot releases a coloured smoke just before the ashes which can be seen dispersing into the air. Some companies allow close family members to go up in the plane. Check out VT10 Company Ltd they are based in East Lothian but operate across the UK, or the aviation school Tiger Moth Training is located on the Somerset- Dorset border. Ash drops are also available from a Spitfire MK IX or an L4 Grasshopper/Cub in Kent, Sussex, and Surrey. 
Dropping ashes from a remote-controlled helicopter
Angels Away offers this service anywhere around the country. The ashes are dropped from a low altitude over a favourite place. Drones are also becoming a popular choice for dropping ashes. A second drone can film the actual moment of release in the air.
Releasing ashes into space
MesoLoft use high-altitude balloons to carry the ashes up to the border of space where they release them into the stratosphere to float gently down to the earth. Another option is AURA flights.
Memorial Space Flights
You can send a small amount of cremains either into space or deep space, into the Earth's orbit, or onto the surface of the moon. Find out more here. It's not cheap but for anyone who always wanted to travel in a real space rocket, this could be just the ticket.
Dove releases
White doves release the cremains and offer a peaceful and moving way of scattering ashes. The service is available around the country from different companies including Lambert's, Brooks, and Heavens a Dove.
Scattering ashes from a hot air balloon
Many hot air balloon companies will allow you to release ashes during a private hiring.
Scattering ashes in a skydive
At UK Parachuting in Suffolk, you can make a tandem skydive from 13,000 ft releasing the ashes on the way down. The descent lasts about 6 minutes and you can just enjoy the ride as the instructor has full control of the parachute. Additionally, you can have a film  made of the whole experience, and other spectators can watch on the ground.
Ashes in fireworks
You can opt to have a professional fireworks display using fireworks containing the ashes. Alternatively, you can launch these special fireworks yourself. Either way, this is really a spectacular final farewell. Find out more at Heavens above Fireworks and Heavenly Stars Fireworks.