Scattering tubes make the last farewell simple and special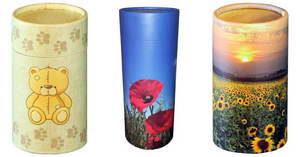 Scattering tubes make the dispersal of cremation ashes simple, so you can enjoy a calm and peaceful final farewell.
What are scattering tubes?
Scattering tubes are made of recycled cardboard. They have a fixed bottom, and the lid has a special easy-to-open push-in tab. The tube is sturdy and you can use it to transport the ashes safely to the chosen scattering place. You can even take the tube containing the ashes on an aeroplane in your hand luggage if you need to fly to the chosen spot.
Do scattering tubes come with different designs?
Yes, the tubes come with a variety of beautifully coloured high-definition photographs on them. There are sunsets over the ocean, forests of bluebells and fields of sunflowers. Choose from flying doves, colourful rainbows, forget-me-nots and lilies. Poppies, roses, and orchids are also available.
In addition to these colourful and touching images, you can also choose from solid colours that are sleek and elegant.
Additionally, for the departed golfer, the humorous 19th hole design could be the ideal choice. While for a child's ashes the charming teddy bear design is a lovely option. For a special four-legged friend, you might choose the tube with the dog design.
Do they come in different sizes?
Yes, scattering tubes come in two sizes. The larger tube has a capacity of 240-cubic inches and can hold the cremation ashes of the average adult weighing up to 105-kg. It measures 37-cm in length. The smaller tube has a 20-cubic inch capacity and is ideal for holding the ashes of an infant or a departed pet with a weight less than 9-kg. Its length is 13-cm.
You can also use these smaller tubes to share out the ashes so that various people can partake together in the scattering ceremony.
Are scatter tubes recyclable?
Yes, scatter tubes can be recycled, reused, or composted. They are made from totally natural materials which completely biodegrade when the tube is buried in the ground. Alternatively, why not choose to reuse the tube and always have a special reminder of a departed friend, family member, or pet.
Tips for successful scattering
If you are planning to scatter the ashes on private land you need to ask the landowner's permission.
Scattering ashes in a public place can cause a stir. If you want to enjoy a private, peaceful moment choose a time when there are not many people about.
Remember to check the wind direction and to stand upwind, to ensure that this special occasion occurs in the best possible way.